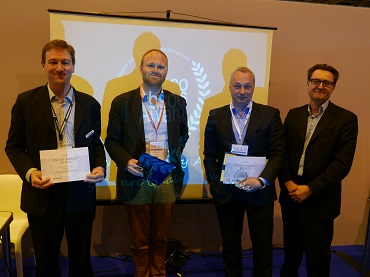 The website http://www.software-comparison.net/ , benchmark leader in the community of professional software, has published its definitive list of awards for 2016, in which more than 30 companies have been rewarded for the performance of their products. The "bsoco awards" aim to be both complete and relevant and does this by combining a professional jury from the sector with the opinions of many users, therby guaranteeing relevance and an innovative perspective.
On the occasion of the awarding of the prizes, held at the Human Resources Solutions Fair on 22 March in Paris, Didier Rouxel organised for bsoco a round table on the topic "Between user experience and strategic issues, how do HR software publishing leaders designate the future?" There were three winners: Benoit Gruber, Director of Product Marketing of the company Sage, Geoffroy de Lestrange of Cornerstone and Jean-Sébastien Chanal of Talentsoft.
'For the entire bsoco team, it's always a great pleasure to welcome the major players in HR and to organize a discussion with their users,' said Martina Biberlová, the bsoco representative at the exposition.
'Receiving the bsoco award for Recruitment and Skills supports us in developing our integrated application for talent management and our international growth. We are very pleased to have received this distinction, which we share with all our users,' said Jean-Sébastien Chanal Director Presales Talentsoft.
'Digitalisation is revolutionising the business world after having transformed our personal lives. The 2016 Human Resources Solutions Fair has once again demonstrated the importance of these technologies for our business. The 2016 Bsoco Awards reflect these developments by rewarding the leading publishers in each of 4 categories: Talentsoft for both Recruitment and Skills, ADP for Payroll and Sage for HR Management Systems', added Didier Rouxel, bsoco consultant and founder of www.drh-i-s.com.
The bsoco awards are presented at two renowned trade fairs in Europe, thus offering high exposure on the international scene: The Learntec Fair at Karlsruhe (Germany) for the e-learning category, and the Human Resources Solution Fair at Paris (France) for HR.
The complete list of results are available here http://www.software-comparison.net/bsoco-award.php
About bsoco.com
bsoco is a company which specializes in benchmarking professional software. Based on big data principles, it provides software developers and companies looking for B2B software with analyses of statistics obtained from its large community of users. The concept is unique in that it turns the observed behavior of software users into a relevant factual index. Software is evaluated according to 4 criteria (performance, usability, reliability and services) offering readers a tool to compare the performance of products offered from market leaders.
To determine purchasing trends, bsoco analyzes the browsing behavior of its thousands of users worldwide and identifies the most frequent searches. It also considers the sales of its benchmark sheets, which is a reliable indicator of the short-term purchasing plans of users. Recognized by professional software developers, the bsoco barometer gives useful and relevant benchmarks for both software vendors and buyers.
With a strong presence in the United States, England, France, Spain and South America, the bsoco community allows the site to provide unique comparative studies of all kinds of software including ERP, CRM, CMS, e-mailing, HRIS, LMS, rapid learning, authoring tools, talent management and accounting.