Press and News
5 Considerations for Selecting Your Global Cloud HR Solution
Last October, Meta4 was recognized by Gartner as one of the three European vendors included in their annual report "Critical Capabilities (CC) for Cloud HCM Suites for Midmarket and Large Enterprises".
Global cloud HR and payroll solutions are the future for better HCM in companies operating in global markets. The leading global research and advisory firm, Gartner has clearly forecasted this trend: "By 2020, 30% of global midmarket and large enterprises will have invested in a cloud-deployed human capital management suite for administrative HR and talent management, but will still need to source 20% to 30% of their HCM requirements via point solutions."
So mid-sized or large companies will, sooner or later, be looking for a global cloud HR and payroll solution suited to their needs. A good point to start is with Gartner's annual reports on Magic Quadrants (MQ) and their associated Critical Capabilities (CC) for Cloud HCM Suites.
The MQ analysis complements the associated CC report, which is a purely product-focused evaluation supplemented by an evaluation based on four use cases describing different needs companies have. Matching companies up with these use cases will help to determine the solution that best fits their current situation and company needs. Additionally, there are five key factors to consider when choosing a global HR solution: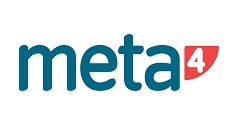 Meta4 PeopleNet is completely flexible for companies who want to design their own organization model with the tools provided and view the organization based on the way their work is structured. The solution offers total flexibility for designing the organizational model, setting up hierarchical and functional relationships between different members of work groups and dynamically reflecting changes in the way the organization evolves. The solution also enables access to service providers who maintain business activity with the organization. It allows you to enter information on external entities.
More details of this software