Press and News
Breaking the Glass Ceiling with Data Analytics
It's not new information that women earn just 79 cents for every dollar that a man earns or that only 14% of the S&P 500's top executives are women. When considering ethnicity in addition to gender, the imbalance gets worse. Compared to the earnings of Caucasian men, African American women net 59% and Latin American women bring home just 54%. With today's focus on diversity and inclusion, many HR pros are all too familiar with this mounting problem—but few understand how to correct it.
In this informational age, Big Data and data mining techniques aren't just for market research and microtargeting. Organizations with established human capital management (HCM) practices are collecting massive amounts of people data that hold the potential to identify demographic disparity. Many times this information is readily available, but evaluating it is a low priority—or the HR department lacks the analytical skills to put the data to use.
Sadly, progress is slow regardless of information accessibility. For example, media coverage of Equal Pay Day earlier this year highlighted companies with equal pay policies, such as Facebook and Microsoft, rather than calling out those that don't offer equal opportunities and pay. This serves as another reminder that equality remains the exception rather than the norm.
Companies that analyze people data in the right context have the potential to pinpoint inequality and implement strategic talent processes to begin to remedy the problem. Providing equal opportunity and compensation isn't just fair and the right thing to do, but studies reveal that the global economy would substantially benefit and increase the GDP worldwide. Companies that want to attract and retain top talent and remain competitive need to move women and minorities into leadership roles and level compensation. It's time to pay attention and learn what interviews and observations don't tell us and transition baseless practices to data-backed strategies.
SumTotal provides visibility into the data organizations need to ensure that they're offering fair compensation plans and equal advancement opportunities to all their employees. Being able to see the composition of your workforce can help you quickly identify areas where you may need to adjust your hiring, advancement or pay strategies. We've designed our solutions to help ensure fair and accurate compensation by basing merit increases and bonuses on an objective and transparent process that aligns with employee performance.
Equal opportunities and compensation for women and minorities benefit economies, companies, communities, families and individuals. The revolution for parity is too good to let pass. Your data has a lot to say. Are you tracking and analyzing the intelligence? Comment below and let me know how your company has gained by taking active measures to break the glass ceiling.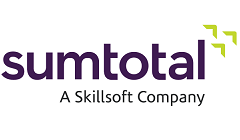 The SumTotal Learn solution is the market leader, with over 45 million people using the solution to increase their effectiveness and productivity in companies of all sizes and all geographies. SumTotal Learn is the only LMS that provides personalised, contextual learning with the flexibility to enable world-class formal training and certification programs as well as day-to-day informal learning and knowledge sharing. With powerful learning management capabilities for businesses of all sizes, complete learning content management, content creation, measurement tools, offline learning tools and next generation mobile and social learning products, the SumTotal Learn solution can be used anytime, anywhere on nearly any device.

SumTotal's Enterprise Learning Management enables organisations to:
- Deploy faster with open activity architecture
- Reduce non-compliance with continuing-education management
- Improve user adoption with an enhanced, intuitive user experience
- Increase visibility with personalized dashboards
- Reach employees on the go with mobile and off-line learning capabilities

More details of this software
Publisher press
> 13/06/2017 - SumTotal Named Leader in The Aragon Research Globe™ for Corporate Learning

> 04/05/2017 - Interview (HR): Liam Butler, VP EMEA Sales, SumTotal Systems

> 29/03/2017 - Participate in our Exciting New Research with Fosway Group!

> 01/12/2016 - SumTotal Talent Expansion Suite Empowers Onboarding and Career Mobility

> 23/11/2016 - Engaging a Dispersed Workforce: 3 Tips for Managers

> 13/10/2016 - The Leadership Brief: Taking your business to the next level

> 05/10/2016 - SumTotal Unveils a Reimagined Approach to Onboarding During the 2016 HR Technology Conference

> 06/09/2016 - A Holistic Approach to Performance Reviews

> 28/07/2016 - Breaking the Glass Ceiling with Data Analytics

> 14/07/2016 - SumTotal Recognized as a Leader in Learning Management

> 24/06/2016 - SumTotal Named a Leader in 2016 IDC MarketScape Report

> 16/06/2016 - 3 Must-Haves for Employee Recognition

> 09/06/2016 - Skillsoft Announces 2016 Innovation Award Winners and Talent Development Champion of the Year

> 27/04/2016 - Over recent years we have seen a lot of change in the L&D sector

> 25/04/2016 - How Does March Madness Impact Office Productivity and Engagement?

> 15/03/2016 - American Cancer Society Adopts SumTotal Talent Expansion® Suite to Transform into Self-Developing Organization

> 10/03/2016 - Customer Speakers Announced for 2016 Global Skillsoft Perspectives

> 26/02/2016 - SumTotal Talent Expansion® Suite Helps Customers Redefine Employee Development

> 10/02/2016 - SumTotal Announces Visionary Talent Expansion® Suite Winter 2016 Release

> 13/01/2016 - Skillsoft Announces 2016 Innovation Awards, Calls for Submissions

> 05/11/2015 - Skillsoft and SumTotal Celebrate First Year as Combined Organization

> 23/10/2015 - Latest SumTotal Talent Expansion® Suite Release Simplifies Talent Management Experience and Supports Employees in Driving Their Own Development

> 02/09/2015 - How to Understand and Measure Employee Engagement

> 17/08/2015 - The UK Apprenticeship Levy: Treating the Symptom

> 22/06/2015 - Is Your Employee Development Plan Half-Baked?

> 12/06/2015 - Skillsoft Unveils the "Self-Developing Organization" at 2015 Global Skillsoft Perspectives

> 29/05/2015 - Skillsoft and IBM Research Unveil New Applications for Big Data

> 22/05/2015 - Skillsoft Announces 2015 Innovation Award Winners and Talent Development Champion of the Year

> 15/05/2015 - Skillsoft Announces Acquisition of Vodeclic

> 17/04/2015 - Staying on Top of Your Game at Perspectives

> 07/04/2015 - Skillsoft's Perspectives 2015 to Showcase Customers, Industry Experts and the Latest Innovations in Learning and Talent Management

> 16/03/2015 - interview (e-learning): Steven Rees-Pullman VP EMEA Sales, SumTotal Systems a Skillsoft company

> 03/03/2015 - SumTotal Named a Leader in IDC MarketScape Report on Learning Management

> 12/12/2014 - SumTotal 2014 Innovation Award Winners Demonstrate Value in Using HR Technology to Transform Workforces and Achieve Organizational Goals

> 05/11/2014 - SumTotal Expands Global Footprint, Partners with Three New Resellers

> 23/10/2014 - SumTotal and Its Customers Recognized for Innovation in HR Solutions and Programs

> 20/10/2014 - SumTotal Announces TotalConnection 2014 Sponsors and Speaker Lineup

> 13/10/2014 - Latest SumTotal Talent Expansion® Enhancements Extend Employee Engagement, Retention, Succession Planning Capabilities

> 07/10/2014 - Skillsoft completes acquisitio of SumTotal Systems

> 16/09/2014 - HR Technology Provider Expands Business with Triple-digit Increases in Second Quarter Bookings

> 05/09/2014 - Hr experts examine value of extended learning in SumTotal webinar series

> 28/08/2014 - 4 Secrets to a Happy and Productive Career

> 14/08/2014 - Sumtotal and Fistful of talent team up for interactive, virtual hr hangout events

> 24/07/2014 - SumTotal reveals industry expert speakers for 10th annual global user conference: TotalConnection 2014

> 19/06/2014 - Fallon Health achieves success using SumTotal Talent expansion™ for employee engagement, regulatory compliance

> 21/01/2014 - SumTotal Systems Names Hardeep Gulati Chief Executive Officer

> 08/10/2013 - SumTotal's Talent Expansion Suite Delivers Industry's First Context-Aware User Experience for HR

> 16/09/2013 - SumTotal receives four Best of Elearning! 2013 Awards

> 05/09/2013 - Organizations Using Advanced Workforce Analytics Report Outperforming Their Competitors, According to a Study from Harvard Business Review Analytic Services

> 19/08/2013 - Developing Learning and Compliance (SumTotal : VieCuri medical centre case study)