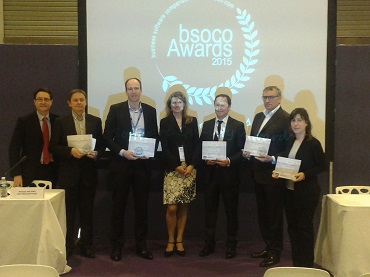 Via its website www.bsoco.com, the company bsoco, the leading professional software benchmark community, has announced the definitive list of its awards for the year 2015, in which more than 30 software publishers have been rewarded for their performance.
The intention is for the "bsoco awards" to be complete and relevant. The combination of a professional jury from the sector and the opinions of thousands of users ensures an approach that is innovative, appropriate and without rival. Each year the awards are presented to the publishers of software for different levels of management, business and ERP. In their own words:
"We are very pleased to have received this Bsoco award for our solution TalentLink ", commented Eric Gellé, Director for South and East Europe of Lumesse. "This award, which, moreover, is trusted by European users, goes hand-in-hand with the confidence in our recruitment solution and confirms the effectiveness of our technological innovations, innovations that respond particularly well to the expectations and needs of HR."
"This award is especially meaningful to us because it reflects the very high level of satisfaction of our users ", affirmed Patrice Poirier, Senior Partner of SIGMA-RH. "The enviable position of SIGMA-HR is not a coincidence - the human scale of our technological company has always stood out from other vendors by offering innovative and flexible HR solutions while developing a close relationship with each customer. We will do all we can to stay number 1 in our classification, it's in our DNA".
We are particularly honoured to have received the award in the Bsoco Talents category. It rewards our expertise in the field of talent management and commits us to continuing our development of new operational capabilities that enable companies to develop internal talent by measuring a real impact on their results", said Philippe Galiano, Marketing Director, ADP.
" On behalf of the PrestaShop team and the entire PrestaShop community, it is a pleasure to receive the 2015 bsoco Award for the best CMS in the Website category for the second year. I am so proud that our platform has helped 230,000 merchants around the world build their ecommerce stores, and we look forward to continuing to support the success of our growing community.," said Bruno Leveque, Founder of PrestaShop.
Philippe David, General Manager of Welcome Real Time "This new award confirmed from an end users perspective, the good positioning of our global CRM plus Loyalty solution. Receiving this Bsoco gold award is a great achievement for the entire Welcome team. "
"For myself and the entire company it is with real pride that we accept this Bsoco award for the second consecutive year . This award recognises the many efforts being done every day by our team to innovate while respecting our motto, 'simplicity of use', said Mathieu TARNUS, General Director of Sarbacane Software.
The bsoco awards are presented at two renowned shows in Europe and thus offer high exposure on the international stage, namely Learntec in Karlsruhe (Germany) for the e-learning category and Solution Ressources humaines in Paris (France) for the HR category.
The full results are available on the bsoco website: http://www.software-comparison.net/bsoco-award.php
About bsoco.com
bsoco is a company which specializes in benchmarking professional software. Based on big data principles, it provides software developers and companies looking for B2B software with analyses of statistics obtained from its large community of users. The concept is unique in that it turns the observed behavior of software users into a relevant factual index. Software is evaluated according to 4 criteria (performance, usability, reliability and services) offering readers a tool to compare the performance of products offered from market leaders.
To determine purchasing trends, bsoco analyzes the browsing behavior of its thousands of users worldwide and identifies the most frequent searches. It also considers the sales of its benchmark sheets, which is a reliable indicator of the short-term purchasing plans of users. Recognized by professional software developers, the bsoco barometer gives useful and relevant benchmarks for both software vendors and buyers.
With a strong presence in the United States, England, France, Spain and South America, the bsoco community allows the site to provide unique comparative studies of all kinds of software including ERP, CRM, CMS, e-mailing, HRIS, LMS, rapid learning, authoring tools, talent management and accounting.
http://www.bsoco.com

Press contact: michaela.zabova @ bsoco.com