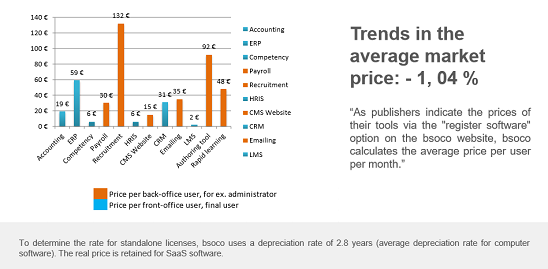 This document presents the B2B software purchasing trends in the first quarter 2016 and gives performance indicators on software areas such as CRM, ERP, e-learning, HRIS, CMS, etc. The comparative barometer is available free of charge on the bsoco site.
This quarter the prospects of sales are good and largely increased compared to last quarter of 2015 (+ 34.36%%) and also above the first quarter of 2016 (+ 4.13%).
Among the advanced countries in software investment, the barometer highlights Asia, Italy,Germany, the UK and the US as the most likely countries to make investments in terms of application.
Interest in open source software (free software) has slowed again but, this time, surprisingly, it does not benefit SaaS software, but software in buying mode.
"SaaS remains an important trend yet it remains", according to Pavel Novak, chief analyst at bsoco "a real market in purchasing software It is certain that SaaS remains and will remain, for the coming years, the reference solution. However, the license acquisition market remains bouyant and it is not surprising that it increased slightly. We have identified two main reasons: first, the geopolitical climate that causes security strategies and having echoes within companies. Secondly, SaaS solutions are often less customisable than purchasing softwares that have made their mark and are attractive thanks to those companies that emphasize adaptability, reliability and price."
The dynamics of the market are largely supported by HR software, especially HRIS and talent management softwares, a dynamic confirmed by Jerome Hautier of INSERT: "A few years ago, research into HRIS software and / or specialized solutions (GPEC-Managed Planning of Employment Skills -, Training etc) concerned more medium and large companies, whose employees exceeded 1000. For 2 or 3 years there has been an evolution in computerisation and HR management in small enterprises(100-500 employees), who also want to equip themselves with HR solutions as part of the optimisation of HR processes. This trend is encouraged by the democratisation of implementations of SaaS mode, allowing the mobilisation of internal teams, not only at the implementation stage, but also in terms of maintenance to be limited. HR legislation and indirectly related constraints, currently favour the equipment of software companies of interview management (Professional, Annual etc). This type of software, whose implementation can be effected in 2/3 weeks, simplifies the operation of interview campaigns (launch, follow up etc) as well as assessments by the managers via the decentralisation of access. HR Services are also very sensitive to the interaction of software training and interviews, notably allowing direct entry into the software of training requests, cold assessments, consultation of the training history etc directly via interviews forms. A significant saving of time and of qualitative returns, while simplifying access to information!"
Software costs remained stable overall although there is a small decrease of – 1.04%.
Finally, the barometer has revealed its usual bsoco TOP 50, which ranks the top 50 software packages in order of user satisfaction. Again, HR software vendors stand out because many of them supply the top of the rankings. This is the case, for example, of the new entrant Eunbit, a Spanish company that offers a cloud solution to manage human resources.
In the new entrants, we also note the arrival of WebERP, an open source ERP that offers a solid solution for a community of knowledgeable technicians.
The comparative barometer is available to download free of charge on the home page of the bsoco site.
About bsoco.com
bsoco is a company which specializes in benchmarking professional software. Based on big data principles, it provides software developers and companies looking for B2B software with analyses of statistics obtained from its large community of users. The concept is unique in that it turns the observed behavior of software users into a relevant factual index. Software is evaluated according to 4 criteria (performance, usability, reliability and services) offering readers a tool to compare the performance of products offered from market leaders.
To determine purchasing trends, bsoco analyzes the browsing behavior of its thousands of users worldwide and identifies the most frequent searches. It also considers the sales of its benchmark sheets, which is a reliable indicator of the short-term purchasing plans of users. Recognized by professional software developers, the bsoco barometer gives useful and relevant benchmarks for both software vendors and buyers.
With a strong presence in the United States, England, France, Spain and South America, the bsoco community allows the site to provide unique comparative studies of all kinds of software including ERP, CRM, CMS, e-mailing, HRIS, LMS, rapid learning, authoring tools, talent management and accounting.
Press contact: michaela.zabova@bsoco.com