Press and News
Coursepath receives IT Innovation Award 2016
Every year the IT Innovation Award "INNOVATIONSPREIS-IT" by Initiative Mittelstand goes to particularly innovative IT solutions with high benefits for medium-sized businesses. In the category of e-learning the jury awarded the title BEST OF 2016 to Coursepath.
The excellent product has convinced the jury and is now one of the leaders of this year's IT Innovation Award. The Initiative Mittelstand honors particularly innovative solutions that prepare medium-sized businesses for a successful digital future.
Patron of the IT Innovation Award 2016 is TÜV Informationstechnik GmbH.
The application basis
A low investment risk, fast availability and a low-level entry into online training are important factors why midsize companies opt for Coursepath.
Also trainers and coaches appreciate this learning management system with its open design. Courses are easily created in Coursepath e.g. by converting a PowerPoint presentation into a course structure.
Empowerment
Modern employees want to adapt training to individual needs. Coursepath is characterized by a modern and easy to use structure. Everyone can participate, create content and upload documents, without software training or IT support.

Flexibility
Not only employees learn flexibly from any device and location in Germany and in the world. Customers and partners can access training at no extra cost. The number of participants remains unlimited.

Alignment
Keeping content and software up to date is easy with software-as-a-service. Companies update content quickly and always have the latest version available. Also, they benefit from the dynamic development of the platform. Secure certified hosting and constant technical updates are included in the service.
Coursepath was developed in a way that is easy to use for everyone involved. An intuitive navigation through courses and learning modules is very important because it assures the company that courses are happily and successfully completed. Coursepath offers live webinars to discuss a customer's requirements together. These webinars are free of charge and help to choose the right learning management system.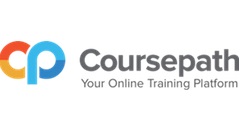 Coursepath is a European online training platform that is well suited for Microlearning— flexible learning in digestible, bite-sized units. Companies create their own professional courses for employees, partners and customers. The modern and clearly structured platform enables social collaboration and makes learning progress measurable. No need for software installation or external services – with our easy-to-use Software-as-a-Service platform you access every training in your web browser. Create courses in a breeze, monitor progress, and experience a rewarding learning journey together. Your securely hosted training platform has it all. With 21 languages Coursepath is extremely adjustable to companies' and learners' needs. Try Coursepath in a free 30-day trial.
More details of this software