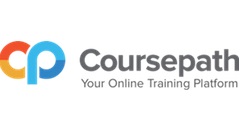 Coursepath
Viadesk
WBR = Without bsoco Rank : bsoco does not contain enough information on this software to evaluate it.
bsoco benchmark sheet
- advantages and disadvantages
- price positioning
- how easy it is to familiarise oneself with this software
- level of R&D
quality of support
- number of training days
- Other market indicators
Not available sheet
bsoco light sheet
- ranking
- community dynamics
- bsoco index evolution
Not available sheet
Description
Coursepath is a European online training platform that is well suited for Microlearning— flexible learning in digestible, bite-sized units. Companies create their own professional courses for employees, partners and customers. The modern and clearly structured platform enables social collaboration and makes learning progress measurable. No need for software installation or external services – with our easy-to-use Software-as-a-Service platform you access every training in your web browser. Create courses in a breeze, monitor progress, and experience a rewarding learning journey together. Your securely hosted training platform has it all. With 21 languages Coursepath is extremely adjustable to companies' and learners' needs. Try Coursepath in a free 30-day trial.