As an Edtech startup, Maskott's ambition is to improve and innovate Life Long Learning. From the primary school to the corporate world you will find a learning innovative pedagogical solution (web platform, app, digital content) for today and tomorrow. Analyzing data and embedding Ai our performant R&D anticipates the major challenges of this market connected to the different usages.
Find out more about Tactileo now joining the 5 million users, easily creating your digital learning content! Tactileo is a digital learning platform for schools, Universities, Enterprises and Training Organisations. With this intuitive solution, create multimedia content and instantly share it on any device (smartphone, tablet, PC…) locally or remotely, connected or not to the internet, with cloud storage included for every user. Gain time and motivation with the Tactileo experience! Interact and learn anywhere anytime with innovative tools. Enjoy this 4 in 1 tool using it at a time as an Authoring tool, Collaborative resources library, LMS platform and as an Animation tool.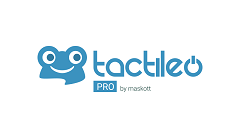 Tactileo Pro, your intuitive learning platform for academic and professional training. Tactileo allows you to create interactive multimedia content, instantly share it on screen as well as on the learner's tablets, smartphones or pcs. Tactileo is a unique tool to create and share multimedia content, to make your teaching sessions, your training and your local or remote meetings more appealing and dynamic, in an online or offline mode. Present, evaluate, pol, animate... Simulate your audience and improve your presentations!

The Tactileo Pro experience will save time, motivate and facilitate the interaction allowing to learn with cutting edge tools.

More than 2,5 millions users, why not you?


More details of this software