Press and News
How Does March Madness Impact Office Productivity and Engagement?
As "mad" as it sounds, an estimated 20 percent of the workforce followed the annual basketball tournament costing employers in 2016 over $3.9 billion in the first week of March Madness1! Extra-long lunch breaks, streaming games and filling out brackets at work are fairly common. There are similar findings of lost productivity during the Olympics and the World Cup2, 3.
Before you close your browser for being called out, hear me out! I believe that the above findings are a bit short-sighted. What if you and your colleagues were encouraged to follow the games, participate in office brackets, and had the championship games streaming in common areas? You may find that you have common ground with your co-workers—not to mention customers—and lively conversation is easy where it was typically small talk. Imagine the workplace satisfaction you will have!
Channeling enthusiasm and energy with work relationships can bring a sense of camaraderie that overflows through the workforce. After all, we've all been taught that in business, relationships are EVERYTHING. Positive and supportive work relationships boost morale and increase engagement. As 78 percent of us spend more time with coworkers than we do with our families4, peer relationships are critical to our professional investments and career satisfaction. Further, take into account that only 51 percent of us use our vacation days5. This may help managers justify practicing more flexibility than normal during major sporting events. Particularly when intangible benefits include departments who rarely interact begin to have rapport and INCREASE in productivity. Engagement would be through the roof!
Why not leverage these moments of sporting competition and nationalism into a positive environment with lasting results?
Comment or send me a message! Let me know if your company encourages interoffice sport synergy or punitively frowns upon it.
www.sumtotalsystems.com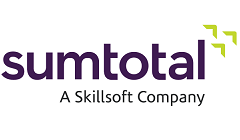 The SumTotal Learn solution is the market leader, with over 45 million people using the solution to increase their effectiveness and productivity in companies of all sizes and all geographies. SumTotal Learn is the only LMS that provides personalised, contextual learning with the flexibility to enable world-class formal training and certification programs as well as day-to-day informal learning and knowledge sharing. With powerful learning management capabilities for businesses of all sizes, complete learning content management, content creation, measurement tools, offline learning tools and next generation mobile and social learning products, the SumTotal Learn solution can be used anytime, anywhere on nearly any device.

SumTotal's Enterprise Learning Management enables organisations to:
- Deploy faster with open activity architecture
- Reduce non-compliance with continuing-education management
- Improve user adoption with an enhanced, intuitive user experience
- Increase visibility with personalized dashboards
- Reach employees on the go with mobile and off-line learning capabilities

More details of this software