Press and News
HR Tech Europe 2015
Europe's Most Exciting Two Day Conference & Expo on the Future of Work!
March 24 - March 25
HR Tech Europe is Europe's most important event on how software, technology systems and collaborative tools are bringing about surmountable change in the way people and organizations work. Learn from the world's most exciting leaders and disrupters on topics covering HR, technology, talent & recruitment, social enterprise, learning, mobile, trends, strategy and big data opportunities.
See more at http://london.hrtecheurope.com/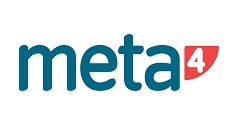 Meta4 PeopleNet is completely flexible for companies who want to design their own organization model with the tools provided and view the organization based on the way their work is structured. The solution offers total flexibility for designing the organizational model, setting up hierarchical and functional relationships between different members of work groups and dynamically reflecting changes in the way the organization evolves. The solution also enables access to service providers who maintain business activity with the organization. It allows you to enter information on external entities.
More details of this software