Infor CloudSuite Facilities Management Takes Overall Grand at Awards Dinner
Infor, a leading provider of beautiful business applications specialized by industry and built for the cloud, today announced that two Infor Enterprise Asset Management (EAM) products won Gold Awards in Plant Engineering's 2015 Product of the Year Awards. Winners were announced on Monday, March 21, at the annual Engineering Awards in Manufacturing dinner hosted by CFE Media.
Infor CloudSuite Facilities Management was the winner of the Grand Award, an accolade that recognizes the product with the most individual votes among all products voted on in the competition this year. This product suite is designed to help customers reduce inefficiencies, costly maintenance requirements, and missed business opportunities by delivering greater asset visibility to help streamline core processes. It is a solution that includes a core enterprise asset management system combined with enhanced extension applications-all delivered in the cloud.
Additionally, Infor EAM Energy Performance Management was presented with the Gold Award in the Energy Management category. This module is designed to help organizations stay competitive and better understand the energy behind asset management. The latest version of the module includes capabilities for establishing enterprise energy policy and programs, setting targets and objectives, and managing the deployment, asset performance, energy efficiency, and maintenance of company assets. These capabilities can help prevent operational surprises and uncover hidden profits.
Plant Engineering's Product of the Year program is the premier award for new products in the manufacturing and non-manufacturing industries. The annual reader-choice program provides Plant Engineering's audience with information about the top new product in their fields. This year marked the 28th year of the program and consisted of 15 categories with 52 winners.
"We're pleased to have recognized Infor with the 2015 Product of the Year Grand Award and a Gold award for its EAM Energy Performance Management product," said Bob Vavra, content manager for Plant Engineering. "The Industrial Internet of Things is a significant topic, and our readers recognized the importance of that topic by its recognition of the CloudSuite Facilities Management with the Grand Award. Our readers, who vote on the entries every year, deserve the credit for identifying the best of more than 100 innovations to help manufacturers run their plants smarter, safely and more efficiently."
"These award wins are very exciting for our team and only solidify the great work we are doing with our products at Infor," said Kevin Price, director of product management and product strategy, Infor. "We would like to thank everyone who voted for Infor CloudSuite Facilities Management and Infor EAM Energy Performance Management because we would not have won without those votes. We are very excited to carry this momentum as we move into the next fiscal year and beyond."
About Infor
Infor builds beautiful business applications with last mile functionality and scientific insights for select industries delivered as a cloud service. With 14,000 employees and customers in more than 200 countries and territories, Infor automates critical processes for industries including healthcare, manufacturing, fashion, wholesale distribution, hospitality, retail, and public sector. Infor software helps eliminate the need for costly customization through embedded deep industry domain expertise. Headquartered in New York City, Infor is also home to one of the largest creative agencies in Manhattan, Hook & Loop, focused on delivering a user experience that is fun and engaging. Infor deploys its cloud applications primarily on the Amazon Web Services cloud and open source platforms. To learn more about Infor, please visit www.infor.com.
See more at: www.infor.com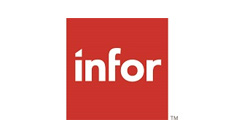 Infor ERP software. Ready to go. Without expensive customisations and long, drawn out implementations. With flexibility, so you can add functionality as your business grows. Over 5,000 automotive companies, more than 4,500 machinery manufacturers, 3,500 process manufacturers, and more than 9,000 distributors worldwide have done it with Infor… and you can too.
More details of this software