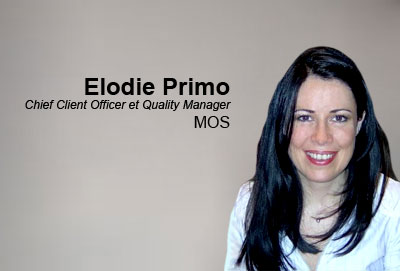 Co-founder of MOS – MindOnSite, Elodie Primo currently acts as Chief Client Officer and Quality Manager at the company dubbed by its clients as the Swiss army knife of eLearning.
Elodie decided to dedicate herself to human resources after spending ten years working as a commercial manager for logistics companies. Fascinated by human behaviour and the cognitive sciences, she completed a Master's degree in Neuro-Linguistic Programming and wrote a thesis focused on training.
She has worked on European projects on practitioner communities and training technologies of the future.
bsoco : Your company is active in a great number of countries. Could we say that it is the current leader in e-learning ?
Elodie Primo : MindOnSite is the editor of a Blended Learning (LMS-LCMS) platform. It is a subsidiary of the Demos group which is present in 17 countries but has its core markets in France and Switzerland. There are several important international editors, as well as a number of smaller local ones, active in the French e-learning market at the moment. MindOnSite is a medium-size actor in this market but one that already has an international presence and that aims to be a leader in the area of training management platforms.
Indeed, MindOnSite was recently selected as one of the « Top 20 Training Portals » by the US training website TrainingIndustry.com for its wealth of functionalities and ease of implementation.
bsoco : Who are your solutions designed for? How do your clients make use of your solutions ?
Elodie Primo : Our solutions are licensed or available as SaaS. They cover all aspects of multimodal trainings and thereby contribute to the success of e-learning initiatives of more than 100 leading companies, from SMEs to large groups.
Our flagship product, MOS Chorus, consists of a publishing chain and of a training management platform (LCMS-LMS) that can be natively integrated and that optimises collaboration among all participants in a learning cycle.
Our large accounts benefit from multi-site funtionalities and can create content in a decentralised manner allowing them to give country and regional branches a certain autonomy in the creation and management of trainings.
Our SME clients are not limited to using our products for training purposes, their use extends to information and best practice sharing. Experts contribute more broadly to the production of content.
bsoco : What are some novelties at MOS ?
Elodie Primo : At the start of October we released MOS Video. MOS Video allows the broadcasting of interactive videos and podcasts that strengthen the learning process. Videos are considered an excellent learning tool in certain domains such as health, safety, the environment, product demonstrations, and also for developing sales and customer service skills. MOS Video also allows the transformation of PowerPoint files into video format and allows for the inclusion of comments and exercises.
We are also introducing a further solution for mobile populations. MOS Player meets the needs of users who are not online all the time, whether we're talking about remote collaborators or employees who only have one computer connected to the Internet for their entire team. Having earlier released MOS Player Windows Mono and Multi-user, MindOnSite will release the MOS Player iPad version next January. This will allow users to download a course and follow it locally, then later synchronise their results with an LMS.
bsoco : As an e-learning expert, what advice would you give to those who wish to start a project of this type ?
Elodie Primo : The need for this type of project usually arises on two sides: the Corporate side of a company that is looking for an HR plaform that would meet their collaborators' needs, and the Business side of a company that urgently needs an integrated solution that would allow them to train their sales and distribution networks.
I would say the same to all: make sure to consider the points of view and needs of all the different actors involved and definitely do not buy a product by simply reading its description – be sure to try it out first! Business should focus on SaaS options that are faster to deploy. They should also consider different aspects of content creation and updating. All in all, look for agility in the product and for funtionalities that will really make a difference to your end users!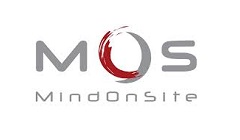 MOS Chorus is a highly flexible tool, ideal for deploying training programs for your internal staff and your extended organization in a very short period of time.

MOS Chorus is a SCORM-compatible LMS/LCMS platform, consisting of four natively integrated modules:

1- Administrative tool with a wealth of features, allowing managers to independently manage their training (e.g. dashboards, time-saving tools, automation of rules, notifications and reminders, Web services, and integration with HRIS, CRM or ERP).

2&3- Style and interface editors offering vast graphic potential: each company can adapt user portals to its own graphic charter and integrate the desired services.

4- Content editor allowing asynchronous (e.g. eLearning and questionnaires) and synchronous (e.g. classroom-based learning and coaching) coursework to be created, edited and combined. Rich and interactive content can be accessed both online and offline, on PCs, tablets and smartphones.

More details of this software