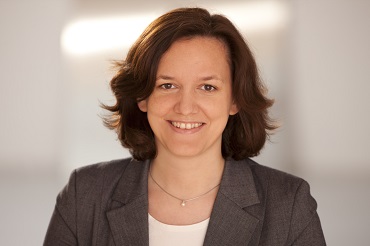 bsoco: Hello, Nicola! Tell us about yourself and your role at Articulate.

Nicola Appel: As the International Community & Events Manager at Articulate, my job is to help people who are interested in e-learning to connect with our community. I organize international events, support user meetings, and speak at industry conferences. I also manage the German-language Articulate blog: E-Learning Einfach Gemacht.

bsoco:What are the top trends you see in e-learning today? What are the challenges?

Nicola Appel: Over the past five years, course authoring tools like Articulate Storyline have made it much easier to build engaging learning experiences. That has helped the industry move past "click-next" PowerPoint slideshows and become more creative.

But tight budgets and time constraints stifle creativity. In many cases, developers are forced to choose just one authoring tool to build different kinds of training, including courses for mobile devices. They don't have the design resources they'd like and their projects get held up in stressful and time-consuming review processes.

We created Articulate 360 to address those challenges in one solution so that course creators can do their best work.

bsoco: Why do e-learning developers choose Articulate products?

Nicola Appel: Ease of use is really important to us. For example, although Articulate Storyline is super-powerful, it's simple enough for anyone to get started quickly. Our products do the heavy lifting, so our customers don't have to.

That's the approach we brought to Articulate 360. We looked at the challenges course creators were dealing with, and designed products and resources to simplify the development process. One subscription includes updated versions of our award-winning authoring tools, plus a growing library of course assets, a simple course review app, and more.

We also have the largest, most helpful community of learning professionals. The E-Learning Heroes community has more than 450,000 members around the globe who are passionate about helping and inspiring one another.

bsoco: What traits do you notice in successful e-learning professionals?

Nicola Appel: The top e-learning professionals are committed to practicing their craft and trying new things. Several developers have told me that sharing their work and getting community feedback in the weekly E-Learning Challenges have helped them up-level their skills.

They're also aware of how others have helped them grow. That's why they do their best to give back. Industry leaders proactively answer questions and offer their perspectives on social media and in online discussions.

And the time they commit to others often pays dividends! It helps them establish their expertise, stay on top of trends, and expand their network.

bsoco: As an expert of e-learning, what kind of advice would you give to someone starting their first e-learning project?

Nicola Appel: You have to start with your audience. Take a close look at their situation. What do they need? Are there any specific requirements you need to be aware of? A good audience analysis can save you time and resources later in the project.

Before you start building, check to see if there's anything already out there like the course you want to create. These days, you often don't have to rebuild the wheel. For instance, there are lots of resources like templates, freebies, and inspiration in the E-Learning Heroes Community to help you kick-start your projects.

It's also very important to choose the right authoring tool. It may be time to find something new if you're in the midst of a tedious task and think, "Isn't this something a computer should do for me?" Technology should do the heavy lifting, not you.
bsoco: Thank you for the answers.