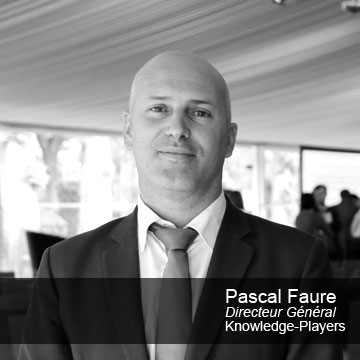 bsoco : How would you define Knowledge-Players?
Pascal Faure : Knowledge-Players designs, manufactures and distributes digital learning solutions allowing a sustainable skills development. We help our corporate clients to design and deploy strategic trainings, using a combination of models called "Blended Learning".
We have become a recognized player in digital training in France, and we are often considered as one of the most innovative companies on the market. The best proof is that in just four years of existence, two of our projects have already won an award at the Elearning Excellence Awards ceremony!
bsoco : On the bsoco website, there 3 subcategories for eLearning (LMS, Authoring tool and Rapid learning). You don't belong to any of these categories: what characterizes your solutions?
Pascal Faure : We support our clients throughout the entire value chain of a training project: consulting, management, design, development, implementation and communication.
Our solutions combine the best of storytelling, pedagogy and videogames. They are based on innovative, robust technologies and on acknowledged best practices. They comply with industry standards, and are easy to handle.
And because the media is nothing without a high-quality pedagogy, our solutions are based on the most inspirational content from our clients' experts, our copywriters and independent subject-matter experts.
bsoco : "A LMS is good, but you still need quality content inside": what do you think about this point?
Pascal Faure : That's undisputable – and that's exactly the reason why we design and develop off-the-shelf and tailor-made training solutions that are compatible with whatever standard used by our clients' LMS platform (AICC, SCORM 1.2, SCORM 2004).
In addition to that, our clients often tell us that their LMS doesn't always meet their operational needs. Part of our mission is therefore to provide them with advice and support, in order for our training solutions to reconcile their business needs, the technical constraints of their LMS, and their regulatory constraints.
bsoco : What is your development strategy? And what is the next step?
Pascal Faure : Our development strategy is based on three guidelines:
- A robust and scalable technological base to support our development,
- Solutions that are compatible with all today's digital devices – and, more importantly, tomorrow's devices,
- Offers adapted to the new uses and challenges of digital and mobility.
More and more of our clients are international and multicultural businesses. We want to bring them digital learning solutions that are adapted to the "digitization" of their operations, in line with their new challenges in terms of skills development (more responsiveness and more targeting), and truly serving their operational efficiency.
We also intend to continue to sharpen our solutions and offers in accordance with societal, cultural and technical evolutions: gamification, storytelling, multimodality, social networks, collaborative communities, content aggregation, MOOCs...
Since its inception, Knowledge-Players has known each year a double-digit growth rate. Our ambition for the next 2 years is to appear as one of the leaders in digital training for large companies in the CAC 40.
In addition, we also have development plans in other markets as training, in designing training for companies abroad, and in BtoC training.