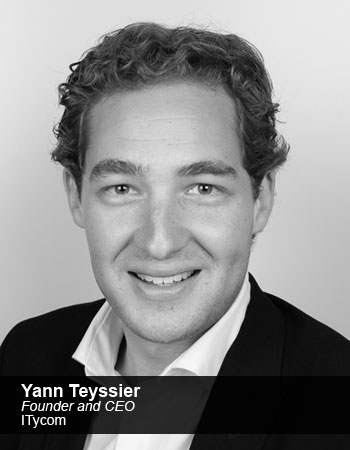 Founder and CEO of ITycom, Yann Teyssier set this company in order to support the Innovative Training and Talent Management.
He developed his expertise in Information Technology and Project Management for different companies as IT Project Manager.
He has even forged a strong specialty in Training and Human Resources Consulting by working within the company Dynargie.
He is graduated from the University of Applied Sciences/ Management School of Geneva (Switzerland).
bsoco : Can you present your company in a few words?
Yann Teyssier : ITycom is expert in Innovative Training Solutions and Talent Management.
Based in Geneva, Paris, Annecy and Moscow, we work with national and international actors. In addition, we develop an international network of distributors allows us to distribute our solutions more widely, keeping a close relationship with our end customers.
ITycom is also a continuous research and development of innovations, both in the field of technology in education.
bsoco : What do you offer your customers? What is your highlight?
Yann Teyssier : Our solutions address the issues of training, information and communication to our customers by combining tools and innovative and powerful concepts.
So we're talking about devices such as modules Rapid Learning or e-Learning, Serious Games, training videos, interactive comics, etc.
Depending on the need and the resources, both financial and human, our customers want to make available for the project, we offer different approaches and tools:
• Bespoke modules: starting from the real needs of our customers, our teams conceptualize and produce a suitable solution
• Modules on shelf: we offer a catalog of eLearning modules and Serious Games ready to use covering various topics such as Management, Communication or Sale
• A software suite:
o ITyStudio: first software-author of its class, ITyStudio allows our users to create autonomously Serious Games and interactive 3D simulations
o ITyLearning: LMS (Learning Management System) for the dissemination of tools and educational content
o ITyRH: control skills and talents software
With a history from consulting in Human Resources and Training, our internal experts put a special emphasis on counseling and support to our customers in the problems of their learning devices, both pedagogically and technologically.
bsoco : Your solution is available in SaaS, what are the benefits for your customers?
Yann Teyssier : We recommend the use of SaaS for our customers so that they can minimize their budgets. They found no cost of licensing or acquisition and computer costs, both material and human (server maintenance, support), are being reduced.
In addition, our customers control their budgets because the costs are known in advance and the operating budget is spread over time. The computer becomes like electricity, they consume what we need and we do not invest in infrastructure.
With SaaS, accessibility is easier and we find strong support through universal access through a web browser, and this on all devices on the market (PC, Mac, tablet, mobile, etc.)..
One other benefit is the growth of the scalability, security and performance. Indeed, the updates are regularly and automatically, and without disrupting users. Backup and data protection are highly secure servers through better IT risk management (actions to prevent errors and real-time monitoring of servers and applications).
Finally SaaS is no longer seen as a product sold but offers a real range of comprehensive services and quality thanks to a close relationship with our customers.
bsoco : However, what are the developments you are considering?
Yann Teyssier : Our R & D Lab is continuously working on improving the functionality and usability of our solutions.
Our training modules on shelf and Serious Games created with ITyStudio, for example, will available on all tablets on the market, including the iPad, from the beginning of September. In addition, enrichment of libraries of characters, animations and decorations in our software ITyStudio accelerates, allowing our users to cover more topics in the modules they create.
ITyStudio and ITyLearning will be available in September in new languages in addition to French, English, Dutch and Russian now available; these solutions will be localized into German, Spanish, Portuguese and Arabic.
Finally, new training modules on shelf appear in the second half in our online store named ITyStore (www.itystore.com), all in different languages.
www.itycom.com