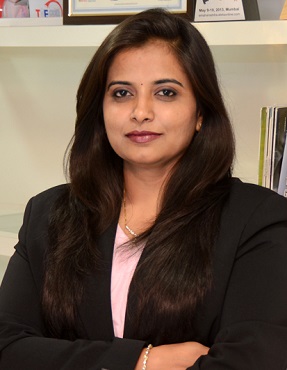 bsoco: Could you please briefly introduce your company?
Ashvini Danigond: Manorama Infosolutions is a Pioneer for Integrated IT Solutions, serving the Global Healthcare Industry. Backed with strong team resources and Domain Expertise we have established a steady and growing customer base in the Healthcare ERP category. Mrs. Ashvini Danigond, Founder & CEO of the company has been the cornerstone to envisage and propel the company to soar high in the Healthcare industry. Her passion and wish to develop patient centric, world-class solutions serving the needs of Humanity has turned into successful Entrepreneurship.
Manorama has built its foundation on the most up-to-date technology; designed and developed splendid IT Solutions for Healthcare. We have developed ERP to aid the healthcare providers, Medical facility centers to provide efficient world class services to their patients. We have specialized IT/ERP Healthcare Solutions: Cloud based applications, Web based applications, Enterprise solutions, Document Management System and Mobile Solutions. To support the Clinical decision making we have integrated BI to enable clinical and business analytics, performance improvement, and better patient outcomes.
bsoco: Could you tell us more about the best practices for a successful project management ?
Ashvini Danigond: We study the scope of the project; plan the project by analyzing the workflow and the requirements. The final project plan consists of work plan, communication matrix, timelines, Quality Plan, Configuration and Management plan. We organize and deploy the resources in conjunction with the Project Plan. We prepare the regular updates of the Risk Register, Mitigation plan and timely communicate it to the Project stakeholders. We submit Weekly progress reports and Monthly compliance report which covers compliances to Project Timelines, Project Team, Hardware and Software delivered and SLA's.
We have taken up Global Healthcare Projects utilizing our expertise providing scope for technological innovation. Our project management includes Contract Management, defining Project Metrics, ensuring Project Tracking, Enforcement of SLA's, Periodic reviews and Quality Audits for successful project execution. We have created value for our customers, setting new benchmarks delivering world class IT Healthcare Solutions.
bsoco: How would you characterize your software solution? What kind of customers do you aim?
Ashvini Danigond: We deliver a comprehensive portfolio of healthcare products and services using Microsoft Platform thereby evolving IT enabled Innovative Solutions. Our Solutions address all the challenges, changes, necessities of health care and support healthcare operations effectively. Our Lifeline Solutions are defined on global clinical standards and protocols; they are interoperable enabling efficient bridging of gaps in Healthcare IT. We have added to our vast portfolio of software solutions - National Repository, Clinical Decision Support Systems, Mobile-Health, E-Health, E-Diagnostic, E-Claims, Telemedicine, Patient Portal, EMR/EHR, BI & Analytics.
We provide specialized/customized solutions for Corporates, Government & Charitable Hospitals, Medical Institutes & Clinical Research Organizations. We have deployed our solutions and successfully executed huge healthcare Projects for clients in major regions: Asia Pacific, Middle East, Africa. Some of our Indian clients include JSW Sanjeevani Hospital, Lokmanya Hospitals, Bharti Hospital & Research Center, Noble Hospital, Safdarjung Hospital, MCGM Hospitals.
Our reputed International clients include Bliss GVS- Kenya, Telemedicine Africa, CDH – Kuwait, Clinix Healthcare- Nigeria.
bsoco: What development methodologies do you use and what is the next step?
Ashvini Danigond: We are Accelerating Healthcare with Our Enterprise IT/ERP Applications. We have a retrospective process to supervise the life cycle of software development, implementation and maintenance. We collect the customer's requirements, they are interpreted by our team and compared and discussed with the customer. The Gap Analysis team hands over the analysis report in a prescribed format to the development team. The updates are developed, tested, verified and validated then deployed in the system. This methodology makes evident the possible shortcomings and loopholes in the process of software development. A constant contact is maintained with the customer to appraise the development strategies and status. This guarantees the best possible delivery of customer's expectation and lessons the risk associated with non-conformance of software.
Manorama Infosolutions has a homegrown Customer Relationship Management (CRM) which works as Ticketing System for the customers, task assignment system for the support team as well as performance management, review and analysis tool for the management. Being a single application it caters to the need of customers, support team and management, and is a single entry point monitoring and measuring various performance metrics.
bsoco: Thank you for the answers.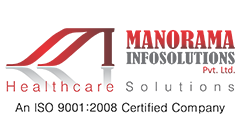 Manorama Infosolutions is a Pioneer for Integrated IT Solutions, serving the Global Healthcare Industry. Backed with strong team resources and domain expertise we have developed Innovative solutions addressing patient safety along with quality of healthcare delivery. We emphasize on providing healthcare solutions rather than ready products. Our exclusive Healthcare solutions are based on research and development of 15 yrs with product line adopting variance in technology innovation. We have solutions ranging from Inline architecture to cloud platform handling mobile/portable devices.
We have designed our solutions on the lines of WHO compliances, which are extremely secure and work in emergency/critical area of the society. Hence, we have secure Apps, architecture on HL-7 protocol & HIPPA compliances. As a healthcare company we have worked with the region specific healthcare protocols. We have successfully introduced our Solutions in India, Middle East & African continents with respective guidelines as stated by their governments.
Our journey so far has established our entity in patient centric solutions, Telemedicine solutions, E-health services, Individual or Enterprise environment. Way forward we have already marked our footprints in National repository, Predictive Analytics & with Big customer Database structured with Big Data for Global Research & Development.

Lifeline E-Clinic Enterprise Solution consolidates data at various levels of hospital engagements, multiple hospital care, administrative units such as financial, clinical, patient demographics & analytics. It is a comprehensive & integrated ERP for Hospital Management available on the web. The web-based system caters to Appointment, Registration,OPD, LIS, RIS, IPD, OT, Billing, back office modules along with an e- claim system, which is a must for efficient & effective management of a Healthcare Entity. Our solution enables connectivity among various locations and branches offering consolidation of data, Interoperability of systems, Integration of machines resulting in a real time presentation of Big Data for Healthcare.

http://manoramahealthcare.com
http://manoramahealthcare.com/company-profile.php
http://manoramahealthcare.com/channel-partner-program/
http://manoramahealthcare.com/index.php#solutions

More details of this software