Press and News
Latest SumTotal Talent Expansion® Suite Release Simplifies Talent Management Experience and Supports Employees in Driving Their Own Development
New Features Lay Foundation to Help Build 'Self-Developing Organizations'
Skillsoft, a global leader in learning and talent management, today announced the general availability of SumTotal's latest Talent Expansion® suite, designed to optimize individual and organizational performance by helping customers build workplace cultures that promote continuous, self-directed learning and development. This release builds on Skillsoft's previous release and features deeper, tighter integration of Skillsoft content with SumTotal's Talent Expansion platform and solutions to deliver a more streamlined, hyper-personalized user experience.
"SumTotal's latest Talent Expansion suite empowers managers, individuals and business leaders to simplify their approach to professional development and career progression," SumTotal Senior Vice President of Products and Technology Humair Ghauri said. "We're bringing together talent analytics, individualized skill and competency gap insight, and the ability to identify and map development needs against career aspirations — all within an intuitive, modern interface. The newest enhancements to the Talent Expansion applications support customers on their journey as a 'self-developing organization' by seamlessly connecting people to the learning and curated content that makes development plans meaningful and actionable."
With engagement and culture cited as the most important priority for HR, according to Deloitte's Global Human Capital Trends 2015 report, organizations must build an enticing, consumer-inspired workplace experience that will increase employee motivation, productivity and retention.
According to the report, "Organizations that create a culture defined by meaningful work, deep employee engagement, job and organizational fit, and strong leadership are outperforming their peers and will likely beat their competition in attracting top talent."
SumTotal's Talent Expansion suite helps organizations transform employee engagement into organizational performance by embedding personalized content and development opportunities directly into talent workflows. This release lays the foundation for future generations of the SumTotal platform that will aid organizations in moving their organizations forward by supporting technology-enabled self-development. Dozens of pivotal enhancements and a personalized, consumer-grade experience allow learning to occur naturally and contextually as part of the daily flow of work.
Major release enhancements include:
Position Fit – This new feature helps employees maximize performance within their role by providing information on skills, learning and competencies within the context of the expectations of their current position in a single view. The Position Fit feature provides actionable insight that prepares both managers and individuals to identify meaningful development opportunities that can close competency gaps and advance employees in their career.
A streamlined learner experience makes it easier for employees to identify, prioritize and launch learning while staying productive. The new one-click registration capability allows learners to quickly review and enroll in all courses in a curriculum, and provides the flexibility to interact individually with each component. Mobile push notifications make it easy for people to stay on top of the learning they need with enhanced visibility into learning assignments. Additionally, a configurable digest notification provides a simple overview of all assigned, expired, decertified, due and overdue activities in one consolidated email.
New SumTotal Foundation framework supports the rapid development of new, compelling user interfaces that can easily be branded, empowering organizations to present a highly engaging talent management experience. New visual progress dials enable users at all levels of the organization to easily see the status of talent management initiatives. The SumTotal Foundation ensures that organizations can deliver an experience that seamlessly blends talent management processes and learning experiences and functions across a range of devices and platforms while conforming to common industry accessibility standards.
SumTotal will demo this release and preview future capabilities that enable the "self-developing organization" at the HR Technology Conference being held Oct. 18-22 in Las Vegas. Attendees can visit booth 1500 to see these innovations in action and discuss the latest HR trends, challenges and technology with Skillsoft executives.
Tweet this: Latest @SumTotalSystems Talent Expansion suite lays foundation to promote self-directed learning and development. http://ow.ly/StdoF
To learn more about SumTotal, visit www.sumtotalsystems.com, and check out the SumTotal Blog for innovative HR ideas and discussions.
About Skillsoft
Skillsoft is a pioneer in the fields of learning and talent management with a long history of innovation. Skillsoft provides cloud-based learning solutions for its customers worldwide, ranging from global enterprises, government, and education to mid-sized and small businesses. Skillsoft's customer support teams draw on a wealth of in-house experience, flexible delivery platforms and a comprehensive learning e-library to develop off-the-shelf and custom learning programs tailored to cost-effectively meet customer needs. Skillsoft's courses, books and videos have been developed by industry leading learning experts to ensure that they maximize business skills, performance, and talent development.
Skillsoft currently serves over 6,000 customers and more than 19,000,000 learners around the world. Skillsoft is on the web at www.Skillsoft.com
About SumTotal Systems
SumTotal Systems, LLC, a Skillsoft company and a leading provider of integrated HR solutions, is increasing the performance of some of the world's most successful organizations, including AstraZeneca (NYSE: AZN [ADR]; London: AZN), Amway (KUL: AMWAY), and Seagate (NYSE: STX). SumTotal's people-focused Talent Expansion® applications, available on premise and in the Cloud, enable contextual, just-in-time development designed to help organizations discover, develop and unleash the hidden potential within their workforce and business ecosystem. Today, more than 3,500 organizations, including several of Fortune's "Best Places to Work," rely on SumTotal's award winning solutions to empower their employees. Visit the SumTotal Blog or follow @SumTotalSystems at twitter.com/sumtotalsystems and on Facebook at facebook.com/SumTotal.Systems for more learning and talent management tips and perspectives.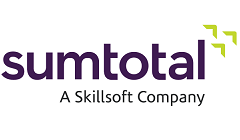 The SumTotal Learn solution is the market leader, with over 45 million people using the solution to increase their effectiveness and productivity in companies of all sizes and all geographies. SumTotal Learn is the only LMS that provides personalised, contextual learning with the flexibility to enable world-class formal training and certification programs as well as day-to-day informal learning and knowledge sharing. With powerful learning management capabilities for businesses of all sizes, complete learning content management, content creation, measurement tools, offline learning tools and next generation mobile and social learning products, the SumTotal Learn solution can be used anytime, anywhere on nearly any device.

SumTotal's Enterprise Learning Management enables organisations to:
- Deploy faster with open activity architecture
- Reduce non-compliance with continuing-education management
- Improve user adoption with an enhanced, intuitive user experience
- Increase visibility with personalized dashboards
- Reach employees on the go with mobile and off-line learning capabilities

More details of this software
Publisher press
> 13/06/2017 - SumTotal Named Leader in The Aragon Research Globe™ for Corporate Learning

> 04/05/2017 - Interview (HR): Liam Butler, VP EMEA Sales, SumTotal Systems

> 29/03/2017 - Participate in our Exciting New Research with Fosway Group!

> 01/12/2016 - SumTotal Talent Expansion Suite Empowers Onboarding and Career Mobility

> 23/11/2016 - Engaging a Dispersed Workforce: 3 Tips for Managers

> 13/10/2016 - The Leadership Brief: Taking your business to the next level

> 05/10/2016 - SumTotal Unveils a Reimagined Approach to Onboarding During the 2016 HR Technology Conference

> 06/09/2016 - A Holistic Approach to Performance Reviews

> 28/07/2016 - Breaking the Glass Ceiling with Data Analytics

> 14/07/2016 - SumTotal Recognized as a Leader in Learning Management

> 24/06/2016 - SumTotal Named a Leader in 2016 IDC MarketScape Report

> 16/06/2016 - 3 Must-Haves for Employee Recognition

> 09/06/2016 - Skillsoft Announces 2016 Innovation Award Winners and Talent Development Champion of the Year

> 27/04/2016 - Over recent years we have seen a lot of change in the L&D sector

> 25/04/2016 - How Does March Madness Impact Office Productivity and Engagement?

> 15/03/2016 - American Cancer Society Adopts SumTotal Talent Expansion® Suite to Transform into Self-Developing Organization

> 10/03/2016 - Customer Speakers Announced for 2016 Global Skillsoft Perspectives

> 26/02/2016 - SumTotal Talent Expansion® Suite Helps Customers Redefine Employee Development

> 10/02/2016 - SumTotal Announces Visionary Talent Expansion® Suite Winter 2016 Release

> 13/01/2016 - Skillsoft Announces 2016 Innovation Awards, Calls for Submissions

> 05/11/2015 - Skillsoft and SumTotal Celebrate First Year as Combined Organization

> 23/10/2015 - Latest SumTotal Talent Expansion® Suite Release Simplifies Talent Management Experience and Supports Employees in Driving Their Own Development

> 02/09/2015 - How to Understand and Measure Employee Engagement

> 17/08/2015 - The UK Apprenticeship Levy: Treating the Symptom

> 22/06/2015 - Is Your Employee Development Plan Half-Baked?

> 12/06/2015 - Skillsoft Unveils the "Self-Developing Organization" at 2015 Global Skillsoft Perspectives

> 29/05/2015 - Skillsoft and IBM Research Unveil New Applications for Big Data

> 22/05/2015 - Skillsoft Announces 2015 Innovation Award Winners and Talent Development Champion of the Year

> 15/05/2015 - Skillsoft Announces Acquisition of Vodeclic

> 17/04/2015 - Staying on Top of Your Game at Perspectives

> 07/04/2015 - Skillsoft's Perspectives 2015 to Showcase Customers, Industry Experts and the Latest Innovations in Learning and Talent Management

> 16/03/2015 - interview (e-learning): Steven Rees-Pullman VP EMEA Sales, SumTotal Systems a Skillsoft company

> 03/03/2015 - SumTotal Named a Leader in IDC MarketScape Report on Learning Management

> 12/12/2014 - SumTotal 2014 Innovation Award Winners Demonstrate Value in Using HR Technology to Transform Workforces and Achieve Organizational Goals

> 05/11/2014 - SumTotal Expands Global Footprint, Partners with Three New Resellers

> 23/10/2014 - SumTotal and Its Customers Recognized for Innovation in HR Solutions and Programs

> 20/10/2014 - SumTotal Announces TotalConnection 2014 Sponsors and Speaker Lineup

> 13/10/2014 - Latest SumTotal Talent Expansion® Enhancements Extend Employee Engagement, Retention, Succession Planning Capabilities

> 07/10/2014 - Skillsoft completes acquisitio of SumTotal Systems

> 16/09/2014 - HR Technology Provider Expands Business with Triple-digit Increases in Second Quarter Bookings

> 05/09/2014 - Hr experts examine value of extended learning in SumTotal webinar series

> 28/08/2014 - 4 Secrets to a Happy and Productive Career

> 14/08/2014 - Sumtotal and Fistful of talent team up for interactive, virtual hr hangout events

> 24/07/2014 - SumTotal reveals industry expert speakers for 10th annual global user conference: TotalConnection 2014

> 19/06/2014 - Fallon Health achieves success using SumTotal Talent expansion™ for employee engagement, regulatory compliance

> 21/01/2014 - SumTotal Systems Names Hardeep Gulati Chief Executive Officer

> 08/10/2013 - SumTotal's Talent Expansion Suite Delivers Industry's First Context-Aware User Experience for HR

> 16/09/2013 - SumTotal receives four Best of Elearning! 2013 Awards

> 05/09/2013 - Organizations Using Advanced Workforce Analytics Report Outperforming Their Competitors, According to a Study from Harvard Business Review Analytic Services

> 19/08/2013 - Developing Learning and Compliance (SumTotal : VieCuri medical centre case study)