- Meta4 showcased its new talent review solution called Talent Matrix at the international HR TECH fair in Las Vegas which drew more than 4,000 professionals in the HR field.
- The new Talent Matrix tool by Meta4 enables organizations to classify and segment all their employees' talent based on their potential.
- Through using this new analytic tool, information on the state of talent within organization can be obtained for the purpose of supporting talent strategies.

Last 18th October, Meta4, world-class leader for human and intellectual capital management (HICM) was present at the HR Tech fair in Las Vegas, one of the major international events dedicated to exhibiting the latest technology advances applied to the HR field. The 18th edition drew more than 4,000 HR professionals, experts and providers from all around the world.
In this context, Meta4 showcased its new "Talent Matrix" solution, a tool designed to enable organizations to classify and segment talent held within all their employees based on their potential as well as to design personalized development plans for each of the established groups: contributors, high or poor performers, those in risk of leaving, and more.
Using this matrix which shows graphically and simply how employees are positioned, companies obtain real-time information for designing specific talent management policies such as succession planning for key positions and people, establishing development programmes for employees with a high risk of leaving, or making plans to cover strategic posts that require specific skills and knowledge.
Moreover, this analytical tool, which strengthens the Meta4 Cloud HR solutions offering, enables companies to discover the global state of their talent pool, analyze its evolution over time and extract the information required for optimizing investment in this field.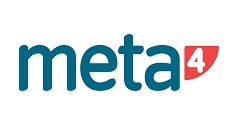 Meta4 PeopleNet is completely flexible for companies who want to design their own organization model with the tools provided and view the organization based on the way their work is structured. The solution offers total flexibility for designing the organizational model, setting up hierarchical and functional relationships between different members of work groups and dynamically reflecting changes in the way the organization evolves. The solution also enables access to service providers who maintain business activity with the organization. It allows you to enter information on external entities.
More details of this software