Press and News
MOS – MindOnSite selected "2014 Top 20 Learning Portal Companies"
TrainingIndustry.com just announced the 2014 "Top 20 Learning Portal Companies List". MOS – MindOnSite is very proud to have been selected this year again!
Selection to this year's Top 20 Learning Portal Companies List was based on the following criteria:
 Breadth of functionality and capabilities
 Commitment to the corporate training market
 Industry visibility, innovation and impact
 Number and strength of clients
 Geographic reach
MOS – MindOnSite was also selected "Top 20 Learning Portal Companies" in 2010, 2012 and 2013.
"Our 2014 Top 20 Learning Portal Companies List showcases the continued innovation in the corporate learning marketplace," said Ken Taylor, Training Industry Inc.'s Chief Operating Officer. "These companies demonstrate the breadth of services, tools and reporting, learning leaders need to support any learning program. In particular, the ease of customization to the client's specific needs was a standout this year."
"The Top 20 companies provide technology and services that have a lasting impact on corporate learning," said Doug Harward, Training Industry Inc.'s Chief Executive Officer. "Their ability to personalize the learning environment to both the needs of the learner and the goals of the business give us confidence in the business impact of the programs they support."
www.mindonsite.com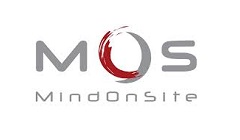 MOS Chorus is a highly flexible tool, ideal for deploying training programs for your internal staff and your extended organization in a very short period of time.

MOS Chorus is a SCORM-compatible LMS/LCMS platform, consisting of four natively integrated modules:

1- Administrative tool with a wealth of features, allowing managers to independently manage their training (e.g. dashboards, time-saving tools, automation of rules, notifications and reminders, Web services, and integration with HRIS, CRM or ERP).

2&3- Style and interface editors offering vast graphic potential: each company can adapt user portals to its own graphic charter and integrate the desired services.

4- Content editor allowing asynchronous (e.g. eLearning and questionnaires) and synchronous (e.g. classroom-based learning and coaching) coursework to be created, edited and combined. Rich and interactive content can be accessed both online and offline, on PCs, tablets and smartphones.

More details of this software