Press and News
Skillsoft and IBM Research Unveil New Applications for Big Data
At its 2015 Global Skillsoft Perspectives customer conference in Orlando, Skillsoft, a global leader in learning and talent management, will present live demonstrations of the latest next-generation adaptive capabilities the company has been developing with IBM Research over the past 18 months. The demo will highlight stage two of the multi-phase joint development effort IBM and Skillsoft have undertaken to harness the power of big data in enterprise learning and development.
At the event, attendees will see how IBM Research's big data analytics and natural language processing (NLP) technologies are applied across Skillsoft's trillion+ user content interactions, job roles and talent profiles and over 60,000 content assets, including rich text and video, and open knowledge bases like Wikipedia, to generate hyper-personalized learning paths. These goal-based learning recommendations are constructed and dynamically sequenced, based on historical content consumption and the semantics of a large number of courses and learning goals, to optimize employee engagement, knowledge retention, and performance.
"Combining IBM's data science digital capabilities with Skillsoft's content intelligence allows us to computationally model and personalize user journeys using self-learning systems," said Dr. Anshul Sheopuri, principal research staff member and senior manager of digital, IBM Research. "The system is able to infer relevant learning paths to the individual user and reason how goals are related to content and paths without manual curation or content assignment. This creates a highly engaging experience for users, accelerating talent development that is aligned to personal and organizational goals."
"In a world where employee engagement is the number one issue keeping business leaders awake at night, organizations must consider the most effective way to put their people at the center of learning and development programs," said John Ambrose, senior vice president of corporate strategy at Skillsoft. "In this big data initiative, Skillsoft and IBM Research have developed a new patent-pending model and system for delivering precisely relevant content to learners at the moment of need. In addition, this content is in a sequence that makes most sense for each individual to accomplish personal and organizational goals, thus fast-tracking their career development."
These new Big Data applications leverage findings from phase one of the project around how learning experiences can be customized to users' preferences to drive next- generation adaptive learning and integrated development. In the next phase of the initiative, this interactive prototype will be piloted with select customers and users.
During the conference, attendees can hear Dr. Sheopuri discuss how leveraging HR information and actionable insights can dramatically improve business outcomes on Wednesday at 9:30 a.m. in the Talent Analytics in Practice breakout session.
To learn more about the latest developments from Skillsoft and IBM, visit http://spotlight.skillsoft.com/.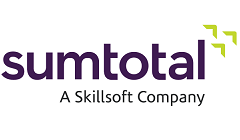 The SumTotal Learn solution is the market leader, with over 45 million people using the solution to increase their effectiveness and productivity in companies of all sizes and all geographies. SumTotal Learn is the only LMS that provides personalised, contextual learning with the flexibility to enable world-class formal training and certification programs as well as day-to-day informal learning and knowledge sharing. With powerful learning management capabilities for businesses of all sizes, complete learning content management, content creation, measurement tools, offline learning tools and next generation mobile and social learning products, the SumTotal Learn solution can be used anytime, anywhere on nearly any device.

SumTotal's Enterprise Learning Management enables organisations to:
- Deploy faster with open activity architecture
- Reduce non-compliance with continuing-education management
- Improve user adoption with an enhanced, intuitive user experience
- Increase visibility with personalized dashboards
- Reach employees on the go with mobile and off-line learning capabilities

More details of this software
Publisher press
> 13/06/2017 - SumTotal Named Leader in The Aragon Research Globe™ for Corporate Learning

> 04/05/2017 - Interview (HR): Liam Butler, VP EMEA Sales, SumTotal Systems

> 29/03/2017 - Participate in our Exciting New Research with Fosway Group!

> 01/12/2016 - SumTotal Talent Expansion Suite Empowers Onboarding and Career Mobility

> 23/11/2016 - Engaging a Dispersed Workforce: 3 Tips for Managers

> 13/10/2016 - The Leadership Brief: Taking your business to the next level

> 05/10/2016 - SumTotal Unveils a Reimagined Approach to Onboarding During the 2016 HR Technology Conference

> 06/09/2016 - A Holistic Approach to Performance Reviews

> 28/07/2016 - Breaking the Glass Ceiling with Data Analytics

> 14/07/2016 - SumTotal Recognized as a Leader in Learning Management

> 24/06/2016 - SumTotal Named a Leader in 2016 IDC MarketScape Report

> 16/06/2016 - 3 Must-Haves for Employee Recognition

> 09/06/2016 - Skillsoft Announces 2016 Innovation Award Winners and Talent Development Champion of the Year

> 27/04/2016 - Over recent years we have seen a lot of change in the L&D sector

> 25/04/2016 - How Does March Madness Impact Office Productivity and Engagement?

> 15/03/2016 - American Cancer Society Adopts SumTotal Talent Expansion® Suite to Transform into Self-Developing Organization

> 10/03/2016 - Customer Speakers Announced for 2016 Global Skillsoft Perspectives

> 26/02/2016 - SumTotal Talent Expansion® Suite Helps Customers Redefine Employee Development

> 10/02/2016 - SumTotal Announces Visionary Talent Expansion® Suite Winter 2016 Release

> 13/01/2016 - Skillsoft Announces 2016 Innovation Awards, Calls for Submissions

> 05/11/2015 - Skillsoft and SumTotal Celebrate First Year as Combined Organization

> 23/10/2015 - Latest SumTotal Talent Expansion® Suite Release Simplifies Talent Management Experience and Supports Employees in Driving Their Own Development

> 02/09/2015 - How to Understand and Measure Employee Engagement

> 17/08/2015 - The UK Apprenticeship Levy: Treating the Symptom

> 22/06/2015 - Is Your Employee Development Plan Half-Baked?

> 12/06/2015 - Skillsoft Unveils the "Self-Developing Organization" at 2015 Global Skillsoft Perspectives

> 29/05/2015 - Skillsoft and IBM Research Unveil New Applications for Big Data

> 22/05/2015 - Skillsoft Announces 2015 Innovation Award Winners and Talent Development Champion of the Year

> 15/05/2015 - Skillsoft Announces Acquisition of Vodeclic

> 17/04/2015 - Staying on Top of Your Game at Perspectives

> 07/04/2015 - Skillsoft's Perspectives 2015 to Showcase Customers, Industry Experts and the Latest Innovations in Learning and Talent Management

> 16/03/2015 - interview (e-learning): Steven Rees-Pullman VP EMEA Sales, SumTotal Systems a Skillsoft company

> 03/03/2015 - SumTotal Named a Leader in IDC MarketScape Report on Learning Management

> 12/12/2014 - SumTotal 2014 Innovation Award Winners Demonstrate Value in Using HR Technology to Transform Workforces and Achieve Organizational Goals

> 05/11/2014 - SumTotal Expands Global Footprint, Partners with Three New Resellers

> 23/10/2014 - SumTotal and Its Customers Recognized for Innovation in HR Solutions and Programs

> 20/10/2014 - SumTotal Announces TotalConnection 2014 Sponsors and Speaker Lineup

> 13/10/2014 - Latest SumTotal Talent Expansion® Enhancements Extend Employee Engagement, Retention, Succession Planning Capabilities

> 07/10/2014 - Skillsoft completes acquisitio of SumTotal Systems

> 16/09/2014 - HR Technology Provider Expands Business with Triple-digit Increases in Second Quarter Bookings

> 05/09/2014 - Hr experts examine value of extended learning in SumTotal webinar series

> 28/08/2014 - 4 Secrets to a Happy and Productive Career

> 14/08/2014 - Sumtotal and Fistful of talent team up for interactive, virtual hr hangout events

> 24/07/2014 - SumTotal reveals industry expert speakers for 10th annual global user conference: TotalConnection 2014

> 19/06/2014 - Fallon Health achieves success using SumTotal Talent expansion™ for employee engagement, regulatory compliance

> 21/01/2014 - SumTotal Systems Names Hardeep Gulati Chief Executive Officer

> 08/10/2013 - SumTotal's Talent Expansion Suite Delivers Industry's First Context-Aware User Experience for HR

> 16/09/2013 - SumTotal receives four Best of Elearning! 2013 Awards

> 05/09/2013 - Organizations Using Advanced Workforce Analytics Report Outperforming Their Competitors, According to a Study from Harvard Business Review Analytic Services

> 19/08/2013 - Developing Learning and Compliance (SumTotal : VieCuri medical centre case study)