Press and News
SumTotal Talent Expansion® Suite Helps Customers Redefine Employee Development
American Cancer Society Adopts Suite to Maximize Talent Engagement and Transform into Self-Developing Organization
SumTotal Systems, LLC, today announced that the American Cancer Society will adopt the SumTotal Talent Expansion® Suite to facilitate their transformation into a Self-Developing Organization. This solution will empower the Society's more than 6,000 employees to pursue a meaningful path for individualized professional growth and development while increasing engagement, productivity and partnership with the Society's more than 2.5 million volunteers.
"Using our suite of solutions, the American Cancer Society can build an organizational culture focused on empowering people. Talent will be able to define and pursue a self-directed path for individualized development, continuous learning and career mobility, three of the critical components of the Self-Developing Organization," said John Ambrose, General Manager of SumTotal. "We're helping the American Cancer Society to rapidly build a competitive advantage by developing, promoting, mobilizing and rewarding the workforce.
The Society's adoption of the suite comes on the heels of the latest Winter 2016 release of the SumTotal Talent Expansion Suite which makes it easier than ever for organizations to develop, promote, mobilize and reward their workforce.
The latest release of the SumTotal Talent Expansion® Suite will enable the Society to attract and retain top talent by providing opportunities to engage employees in their own development and career mobility. Employees in any of the Society's offices and those who work remotely will be able to easily pursue their own professional growth path, and be seamlessly connected to the precise development actions that will help them prepare for future career opportunities. Every employee will have configurable role-based dashboards available to help them focus on specific areas of development and track their own progress. An employee can set preferences, including future job roles they are interested in, and throughout the suite be delivered learning recommendations that support continuous development and emphasize growing the specific skills and competencies critical to their career aspirations within the Society.
"Our employees are incredibly passionate about the impact their work has on people every day. To build on this passion, we want to engage people and equip them with the most innovative, impactful and proven tools for professional growth," said Angela Rose Wright, Director of Talent Process & Systems for the American Cancer Society. "We believe SumTotal is the best solution to ensure our goal of becoming a Self-Developing Organization. Their solution will enable continuous development and talent mobility within the organization."
To find out more about the Winter 2016 release, visit www.sumtotalsystems.com/winter2016.
About SumTotal Systems
SumTotal Systems, LLC, a Skillsoft company and a leading provider of integrated HR solutions, is increasing the performance of some of the world's most successful organizations. SumTotal's people-focused Talent Expansion® applications, available on premise and in the cloud, enable contextual, just-in-time development designed to help organizations discover, develop and unleash the hidden potential within their workforce and business ecosystem. Today, more than 3,500 organizations, including several of Fortune's "Best Places to Work," rely on SumTotal's award winning solutions to empower their employees. Follow @SumTotalSystems at twitter.com/sumtotalsystems and on Facebook at facebook.com/SumTotal.Systems for more learning and talent management tips and perspectives.
About Skillsoft
Skillsoft is a pioneer in the fields of learning and talent management with a long history of innovation. Skillsoft provides cloud-based learning solutions for its customers worldwide, ranging from global enterprises, government, and education to mid-sized and small businesses. Skillsoft's customer support teams draw on a wealth of in-house experience, flexible delivery platforms and a comprehensive learning e-library to develop off-the-shelf and custom learning programs tailored to cost-effectively meet customer needs. Skillsoft's courses, books and videos have been developed by industry leading learning experts to ensure that they maximize business skills, performance, and talent development.
Skillsoft currently serves over 6,700 customers and more than 45 million learners around the world. Skillsoft is on the web at www.Skillsoft.com.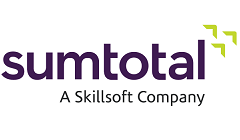 The SumTotal Learn solution is the market leader, with over 45 million people using the solution to increase their effectiveness and productivity in companies of all sizes and all geographies. SumTotal Learn is the only LMS that provides personalised, contextual learning with the flexibility to enable world-class formal training and certification programs as well as day-to-day informal learning and knowledge sharing. With powerful learning management capabilities for businesses of all sizes, complete learning content management, content creation, measurement tools, offline learning tools and next generation mobile and social learning products, the SumTotal Learn solution can be used anytime, anywhere on nearly any device.

SumTotal's Enterprise Learning Management enables organisations to:
- Deploy faster with open activity architecture
- Reduce non-compliance with continuing-education management
- Improve user adoption with an enhanced, intuitive user experience
- Increase visibility with personalized dashboards
- Reach employees on the go with mobile and off-line learning capabilities

More details of this software
Publisher press
> 13/06/2017 - SumTotal Named Leader in The Aragon Research Globe™ for Corporate Learning

> 04/05/2017 - Interview (HR): Liam Butler, VP EMEA Sales, SumTotal Systems

> 29/03/2017 - Participate in our Exciting New Research with Fosway Group!

> 01/12/2016 - SumTotal Talent Expansion Suite Empowers Onboarding and Career Mobility

> 23/11/2016 - Engaging a Dispersed Workforce: 3 Tips for Managers

> 13/10/2016 - The Leadership Brief: Taking your business to the next level

> 05/10/2016 - SumTotal Unveils a Reimagined Approach to Onboarding During the 2016 HR Technology Conference

> 06/09/2016 - A Holistic Approach to Performance Reviews

> 28/07/2016 - Breaking the Glass Ceiling with Data Analytics

> 14/07/2016 - SumTotal Recognized as a Leader in Learning Management

> 24/06/2016 - SumTotal Named a Leader in 2016 IDC MarketScape Report

> 16/06/2016 - 3 Must-Haves for Employee Recognition

> 09/06/2016 - Skillsoft Announces 2016 Innovation Award Winners and Talent Development Champion of the Year

> 27/04/2016 - Over recent years we have seen a lot of change in the L&D sector

> 25/04/2016 - How Does March Madness Impact Office Productivity and Engagement?

> 15/03/2016 - American Cancer Society Adopts SumTotal Talent Expansion® Suite to Transform into Self-Developing Organization

> 10/03/2016 - Customer Speakers Announced for 2016 Global Skillsoft Perspectives

> 26/02/2016 - SumTotal Talent Expansion® Suite Helps Customers Redefine Employee Development

> 10/02/2016 - SumTotal Announces Visionary Talent Expansion® Suite Winter 2016 Release

> 13/01/2016 - Skillsoft Announces 2016 Innovation Awards, Calls for Submissions

> 05/11/2015 - Skillsoft and SumTotal Celebrate First Year as Combined Organization

> 23/10/2015 - Latest SumTotal Talent Expansion® Suite Release Simplifies Talent Management Experience and Supports Employees in Driving Their Own Development

> 02/09/2015 - How to Understand and Measure Employee Engagement

> 17/08/2015 - The UK Apprenticeship Levy: Treating the Symptom

> 22/06/2015 - Is Your Employee Development Plan Half-Baked?

> 12/06/2015 - Skillsoft Unveils the "Self-Developing Organization" at 2015 Global Skillsoft Perspectives

> 29/05/2015 - Skillsoft and IBM Research Unveil New Applications for Big Data

> 22/05/2015 - Skillsoft Announces 2015 Innovation Award Winners and Talent Development Champion of the Year

> 15/05/2015 - Skillsoft Announces Acquisition of Vodeclic

> 17/04/2015 - Staying on Top of Your Game at Perspectives

> 07/04/2015 - Skillsoft's Perspectives 2015 to Showcase Customers, Industry Experts and the Latest Innovations in Learning and Talent Management

> 16/03/2015 - interview (e-learning): Steven Rees-Pullman VP EMEA Sales, SumTotal Systems a Skillsoft company

> 03/03/2015 - SumTotal Named a Leader in IDC MarketScape Report on Learning Management

> 12/12/2014 - SumTotal 2014 Innovation Award Winners Demonstrate Value in Using HR Technology to Transform Workforces and Achieve Organizational Goals

> 05/11/2014 - SumTotal Expands Global Footprint, Partners with Three New Resellers

> 23/10/2014 - SumTotal and Its Customers Recognized for Innovation in HR Solutions and Programs

> 20/10/2014 - SumTotal Announces TotalConnection 2014 Sponsors and Speaker Lineup

> 13/10/2014 - Latest SumTotal Talent Expansion® Enhancements Extend Employee Engagement, Retention, Succession Planning Capabilities

> 07/10/2014 - Skillsoft completes acquisitio of SumTotal Systems

> 16/09/2014 - HR Technology Provider Expands Business with Triple-digit Increases in Second Quarter Bookings

> 05/09/2014 - Hr experts examine value of extended learning in SumTotal webinar series

> 28/08/2014 - 4 Secrets to a Happy and Productive Career

> 14/08/2014 - Sumtotal and Fistful of talent team up for interactive, virtual hr hangout events

> 24/07/2014 - SumTotal reveals industry expert speakers for 10th annual global user conference: TotalConnection 2014

> 19/06/2014 - Fallon Health achieves success using SumTotal Talent expansion™ for employee engagement, regulatory compliance

> 21/01/2014 - SumTotal Systems Names Hardeep Gulati Chief Executive Officer

> 08/10/2013 - SumTotal's Talent Expansion Suite Delivers Industry's First Context-Aware User Experience for HR

> 16/09/2013 - SumTotal receives four Best of Elearning! 2013 Awards

> 05/09/2013 - Organizations Using Advanced Workforce Analytics Report Outperforming Their Competitors, According to a Study from Harvard Business Review Analytic Services

> 19/08/2013 - Developing Learning and Compliance (SumTotal : VieCuri medical centre case study)