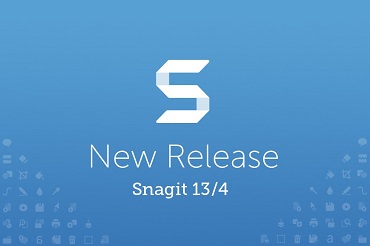 Replace meetings and emails with new features, including GIFs and on-demand video
OKEMOS, Mich., June 7, 2016 -- Ask any employee what the No. 1 productivity killer is at work and the likely response will be "meetings." Ask these same employees how they feel about endless email threads that belabor the same point and never seem to end. The likely answer will be "frustrated." Now, imagine a new worktopia, where your day is free of meetings, and emails are not only efficient but also provide concise and relevant information. This is the world TechSmith envisions with the launch of Snagit 13, announced today. The technology tool's latest version provides the fastest method to capture information and share it in the most personalized way possible.
Snagit 13's new features include:
- New design for the capture tool, including an innovative panoramic scrolling capture that lets users capture images tall or wide

- Updated editor that increases user efficiency in the tool, as well as a new crop and text tool

- New animated GIF functionality, allowing users to create a GIF from a video recording

- Improved image stability, which improves performance when dealing with images with 10 or more items on the canvas
- New callout shapes, magnifying tool and updated stamps, providing more personalization to anything a user snags

- New webcam feature, with the ability to toggle between webcam and screen video when recording

- Redesigned video capabilities, allowing users to capture and create videos without being a video pro

Video
https://www.youtube.com/watch?v=E0ElBZZcMoA
Also announced today is the release of Snagit 4 for Mac, providing optimized features that bring it closer to parity with the traditional Windows version, including capture presents and a library with basic metadata and tagging.
"The latest release of Snagit allows for what we're calling 'Personalized Productivity' for every profession," said Daniel Foster, Snagit strategy lead at TechSmith. "People produce and consume information much differently today. They expect communication to be rapid, personalized, and visually appealing. Snagit 13 and 4 allow users to easily grab, create and share the information that matters most in a fun, familiar manner—reducing time-wasting emails and meetings so professionals can focus on moving the business forward."
Snagit 13's new features create more streamlined communication through an efficient way of interacting. Users in various departments across numerous industries will experience a decrease in tedious email exchanges and a decline in the need to hold long, arduous meetings.
Picture it… as a corporate trainer, you're responsible for ensuring adoption of company tools and processes. Rather than creating boring step-by-step instructions that will probably be ignored or deleted, Snagit 13 allows you to create micro-content in the form of visual help guides or step-by-step job aides. Now employees are able to implement processes with ease, increasing adoption and efficiency for the organization. Sharing micro-content with employees reduces the need for in-person sessions and you ultimately get back that precious thing called time.
With Snagit 13, IT departments can also breathe a big sigh of relief, as the animated GIF feature will capture granular moments that will help when working with employees in the installation or maintenance of software. Dealing with a software upgrade that has a particular step that needs to be shown, however a static image might not do it justice and a long-winded video will get lost in translation? IT departments can use Snagit 13 to create instantly consumable and personalized animated GIFs, allowing the capture of thes e specific moments and making these upgrades more efficient.
Sales and marketing departments will also receive a boost in much-needed fast and clear communication. For marketers, providing quick feedback to mockups of brochures, ads, or websites will require less explanation and can move into program execution faster with Snagit 13's new callout shapes and updated stamps. For the sales team, using Snagit's new Webcam feature to create an on-demand follow-up video response after a pitch can help improve communication and close business faster. Furthermore, these new features eliminate the need to over-explain and clarify, so internal teams, clients and prospects can be on the same page… faster.
Available today, the latest version of Snagit is $49.95 and can be downloaded by visiting www.techsmith.com/snagit. Existing Snagit customers can upgrade to the latest version for $24.95 and by visiting www.techsmith.com/snagit-upgrade.html .
Additionally, TechSmith's partner program offers customers in commercial, government and education sectors the ability to connect with a certified TechSmith partner for Snagit implementation. To speak with a partner program expert, please visit https://www.techsmith.com/application/salescontact/.
About TechSmith
Founded in 1987, TechSmith Corporation provides practical business and academic software products that can dramatically change how people communicate and collaborate. Its mission is to empower people to create remarkable videos and images that help share knowledge and information. TechSmith enables users to work more effectively wherever they may be and ensures that the process of creating, sharing and collaborating around content is simple and intuitive so that others can learn from their knowledge. Learn more at www.techsmith.com and follow @TechSmith on Twitter for the latest news.
Related Links
http://www.techsmith.com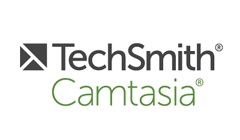 More than a simple screen recorder: Camtasia is a complete solution for creating engaging learning videos. Use Camtasia to record any on-screen-activity, including voice and video from a camera. Camtasia's integrated video editor makes it painless to cut out mistakes, combine footage and work with multiple tracks. Add your own logos, images and recordings. The integrated effects help you draw attention to what's most important:

· Callouts – Arrows, cursor effects, keystrokes, text, highlights, blur and many more.
· Animations – Move and scale objects to create engaging transitions.
· Quiz & Interactivity – Assess your audience with a quiz and add clickable hotspots to your video. The videos are HTML5 and SCORM-compliant.
· Zoom, Pan & SmartFocus – Use panning and zooming to direct viewers' attention by showing only what's important.
· Green Screen – Camtasia's chrome key effect removes the background color of any video. Layer it on top of your recording to put the trainer right in the video.

Export your video projects in a variety of file formats (MP4, WMV, MOV, AVI etc) and leverage HTML5 for rich video features. Share your recordings on your organization's LMS or send them straight to YouTube, Vimeo, Sharepoint, Google Drive and more.

More details of this software