Press and News
World's Top Creators Headline Adobe MAX
Featuring Quentin Tarantino, Zac Posen and Lynsey Addario, MAX Creativity Conference Will Draw Over 10,000 Attendees to San Diego for Inspiration, Hands-on Learning and Networking
Adobe (Nasdaq:ADBE) is gearing up to host the biggest, most groundbreaking Adobe MAX in the event's 13-year history. MAX, the world's premier creativity and design conference, will convene the top creatives from around the globe to share, create, connect and play on Nov. 2-4 in San Diego.
"Adobe MAX is unlike any other conference," said Ann Lewnes, executive vice president and chief marketing officer, Adobe. "Bringing together the most brilliant and creative minds in entertainment, fashion and design – more than 10,000 people from 60 countries – MAX is an awe-inspiring experience where we explore how creativity and design are changing our world."
Event highlights include:
- Inspirational Keynotes and Speakers. The MAX speakers taking the stage this year are pushing boundaries, inspiring possibilities and redefining the way creatives work.

- Quentin Tarantino, writer and director. The visionary behind breakthrough films including "Pulp Fiction," "Django Unchained" and "The Hateful Eight," Tarantino's vibrant imagination and richly layered storytelling have established him as one of the most celebrated filmmakers and creatives of his generation.
- Zac Posen, fashion designer. Couture designer, Brooks Brothers creative director and the mastermind behind Claire Danes' jaw-dropping, glow-in-the-dark Met Gala gown, Posen marries couture with striking innovation in his vision for modern American glamour. Prepare to be awed when Posen comes on stage and the lights dim.
- Lynsey Addario, photographer. Named one of the most influential photographers of the past 25 years, photojournalist Addario chronicles humanitarian and human rights issues across the Middle East, South Asia and Africa.
- Janet Echelman, experiential sculptor. Echelman's work intersects the boundaries of sculpture, architecture, urban design and planning, material science, structural and aeronautical engineering, and computer science. As an experiential sculptor, she shifts art from an object to look at to a living environment one can get lost in.

- MAX Sneaks. Jordan Peele, co-creator and co-star of Comedy Central's "Key and Peele," will host this year's Sneaks – one of MAX's most popular events. Adobe will pull back the curtain on the innovation being developed by Adobe Research, offering attendees a first peek at technologies from Adobe's labs.
- More than 200 Speakers Leading Creativity Workshops, Sessions and Labs. MAX is the place to learn from experts on creative careers, graphic design and illustration, photography, film-making, and web and app design. Gain inspiration and make new connections with tracks led by experts from the world's leading creative shops, startups, corporations, global agencies and academics.
- Next-Gen Creatives. Fostering young creatives is core to Adobe's DNA. At MAX, Adobe Project 1324, in partnership with the Sundance Institute, will celebrate the 18- to 24-year-old winners of their recent short film competition. Be inspired by Adobe's partnership with Exceptional Minds, a non-profit which hones the talents of visually gifted young creators with autism. Attendees will also gain fresh perspective from the student Adobe Design Achievement Winners as well as Adobe Creative Residents, who are spending a full year focusing on a passion project.
- Interactive Experiences. Creative experiences continue to transform the physical and digital world around us. On the MAX show floor, attendees can create their own screenprint or custom wallpaper, fly a drone and see art exhibitions including the traveling National Poster Retrospecticus. They can explore the MAX Playground with digital and old-school games as well as participate in Make It On Mobile mini-studio sessions to learn how to make awesome work on mobile canvases.
- MAX Sponsors. The world's most innovative brands descend on MAX, offering attendees rich opportunities to get hands-on with new innovative, creative experiences. For example:

- Attendees can check out the Facebook Surround 360, Facebook's 3D-360° open-sourced camera. Get up close and personal with the camera and check out some footage on Samsung Gear VR, powered by Oculus.
- GoPro will show off a suite of products optimized to work with Creative Cloud to enhance post-production versatility and output for photo, video and 360° spherical content.
- Airstream will host a competition offering one winner the opportunity to take a four-week trip in an Airstream trailer covered in their personal artwork. Participants can submit designs via social media for a chance to win.

- Product Innovation Showcase. Adobe will share its vision for the future of creativity and design, unveiling innovative new tools, technologies and services across the Creative Cloud.
- Entertainment. This year's MAX Bash after party will be the biggest ever as Adobe pulls out all the stops with performances by The Mowgli's and Alabama Shakes.
For additional information, including last-minute registration and live updates from MAX keynotes and sessions, visit www.max.adobe.com.
About Adobe
Adobe is changing the world through digital experiences. For more information, visit www.adobe.com.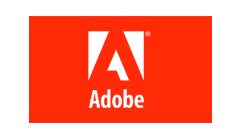 Adobe Captivate 9: Create any kind of eLearning end-to-end. For any device.
With new Adobe Captivate 9 you can create virtually any kind of aesthetically attractive and instructionally sound eLearning. Go seamlessly from storyboarding to responsive eLearning and everything else in-between using a single easy-to-use tool. Dip into the exclusive 25,000+ asset store to enrich your content. Enjoy the power of being able to create amazing courses that run seamlessly across desktops and mobile devices.
Learn more
More details of this software
Publisher press
> 11/05/2017 - Adobe Summit EMEA 2017: Creating Exceptional Customer Experiences

> 06/04/2017 - AI, VR, IoT and Kate McKinnon Headline Adobe "Summit Sneaks"

> 03/03/2017 - Adobe Empowers Businesses to Transform at Adobe Summit

> 22/02/2017 - The Role Of Critical Thinking In Modern Business Training

> 02/02/2017 - Adobe's Board of Directors Elects Adobe CEO Shantanu Narayen as Chairman

> 03/01/2017 - Adobe Completes Acquisition of TubeMogul

> 06/12/2016 - Adobe Data Shows Cyber Monday Largest Online Sales Day in History With $3.39 Billion

> 22/11/2016 - Adobe Named a Leader in Lead-to-Revenue Management Platform Vendors by Independent Research Firm

> 04/11/2016 - Creativity Pays: Global Survey From Adobe Links Being Creative to Stronger Personal and Professional Success

> 27/10/2016 - World's Top Creators Headline Adobe MAX

> 19/10/2016 - Adobe Named a Leader in Gartner 2016 Magic Quadrant for Digital Marketing Analytics

> 06/10/2016 - Media Alert: Adobe Survey Reveals Americans' Dependence on Email

> 16/09/2016 - Media Alert: Adobe Releases Lightroom for Mobile 2.5 Enabling Mobile DNG Raw Photography on iOS 10

> 08/09/2016 - Adobe Unveils New Virtual Reality, Character Animation and 3D Innovations at IBC 2016

> 15/07/2016 - Adobe Creative Cloud Innovations Take Creativity From Blank Page to Brilliant

> 27/06/2016 - Interview (e-learning): Gourav Sinha, Marketing Manager of Adobe

> 23/06/2016 - Adobe Positioned as a Leader in Gartner Magic Quadrant for Mobile App Development Platforms

> 07/06/2016 - Adobe Launches Spark: Visual Storytelling Apps for Everyone

> 26/05/2016 - Adobe Names Cynthia Stoddard as Senior Vice President and Chief Information Officer

> 13/05/2016 - Media Alert: Adobe Launches Public Sector Cloud Offerings on Amazon Web Services in Europe

> 04/05/2016 - Adobe Sign Debuts, Integrated with Adobe Marketing Cloud for Paperless Customer Experiences

> 22/04/2016 - Adobe Unveils Breakthroughs in Video and Film Production

> 08/04/2016 - Adobe Summit 2016: Are You An Experience Business?

> 29/03/2016 - Adobe Announces Cross-Device Co-op to Enable People-Based Marketing

> 11/03/2016 - Opera House Embarks on Digital Transformation with Adobe

> 16/02/2016 - Media Alert: Adobe to Unveil Next Generation Marketing Cloud at Summit

> 08/02/2016 - Adobe Video Tools Get Rave Reviews at Sundance 2016

> 14/01/2016 - Distracted and Device-Hungry: Global Consumers Demand That Brands Entertain Them

> 21/12/2015 - Accenture and Adobe Expand Alliance to Advance Digital Transformation for Life Science, Healthcare, and Financial Services Organizations

> 26/11/2015 - Adobe Named a Leader in Data Management Platforms by Independent Research Firm

> 31/07/2015 - Interview (e-learning): Priyank Shrivastava,director of product marketing at Adobe

> 23/06/2015 - Adobe Unveils Milestone 2015 Creative Cloud Release

> 04/06/2015 - Adobe Announces 2015 Release of Technical Communication Suite

> 26/05/2015 - Adobe Report Predicts Summer Travel Spend to Increase to $65 Billion

> 18/05/2015 - Adobe Advances Programmatic Advertising with New Dynamic Creative Technology

> 12/05/2015 - Adobe Advances Integration of Big Data with Creative Content

> 29/04/2015 - Adobe Delivers Major Innovations to Creative Cloud Photography

> 23/04/2015 - Adobe Positioned as a Leader in Gartner Magic Quadrant for Multichannel Campaign Management

> 26/03/2015 - Adobe Reports Strong Q1 FY2015 Financial Results

> 17/03/2015 - Adobe Pushes Boundaries of Marketing at Summit 2015

> 09/03/2015 - Adobe Photoshop Turns Twenty-Five

> 24/02/2015 - Media Alert: Adobe Summit to Feature Industry Luminaries, Digital Marketing Innovations

> 11/02/2015 - Adobe Launches Cloud Solutions for Government at Digital Government Assembly

> 03/02/2015 - Super 7 Tips To Create Responsive Courses with Adobe Captivate 8

> 23/01/2015 - Adobe Announces Program to Repurchase $2.0 Billion of Stock by End of FY2017

> 14/01/2015 - Top 5 productivity tips for Adobe Captivate

> 09/01/2015 - Adobe Positioned as a Leader in Gartner Magic Quadrant for Digital Marketing Hubs

> 05/01/2015 - Interview (e-learning): Dr. Pooja Jaisingh, Sr. eLearning evangelist of Adobe

> 16/12/2014 - Adobe Data Shows Cyber Monday Sales Up 16 Percent; Large Retailers See Biggest Gains

> 04/12/2014 - Adobe Learning Summit 2014 session recordings now available!

> 18/09/2014 - ADOBE LEARNING SUMMIT - Explore New Frontiers , Oct 27, Las Vegas

> 15/09/2014 - Adobe and Publicis Groupe Team Up to Deliver First Always-On Global Marketing Platform

> 04/09/2014 - Adobe Named a Strong Performer in Digital Experience Delivery Platforms by Independent Research Firm

> 24/06/2014 - Adobe Presenter 10 Enables on-Demand eLearning

> 10/03/2014 - Organize your eLearning Projects: Grouping Slides in Adobe Captivate 7

> 30/09/2013 - Thematic case study (e-learning) : Rapid learning and mobile learning, the major trends by Adobe

> 03/09/2013 - Adobe Releases Presenter 9 – Simple, Intuitive Software for Effective Communication with a Virtual Audience

> 23/08/2013 - Adobe Announces Captivate 7 – Everything You Need to Create in eLearning