Press and News
Selected 2015 Gamification Companies Watch List
TrainingIndustry.com announces Gamification Companies Watch List.
MOS – MindOnSite is proud to be part of the 2015 Watch List this year again!
Gamification is a key element to learner engagement and a priority on both learning portal and content for MOS – MindOnSite. Its MOS Chorus LMS platform is fully adaptable in terms of graphics and features: the user learning portal offers a graphically appealing and engaging learning environment and integrates social and game-based experience.
On the content side, other than integrating serious games from partner editors, MOS – MindonSite launched a new mobile app developed in partnership with Teach On Mars. Pocket Impulse offers a new interactive mobile learning experience. Users can learn, train and practice anytime anywhere on their smartphone; they test their knowledge, practice, answer quizzes, collect points, reach levels and learn in a fun way.
"These companies are some of the best at creating engaging training through gamification products and services and we will continue to see them grow and positively impact this segment", said Ken Taylor, President, Training Industry, Inc.
"Any of these organizations can help enhance your training programs through implementing their gamification products and services" said Doug Harward, Chief Executive Officer, Training Industry, Inc.
See la 2015 Gamification Companies Watch List
To read the press release, click here.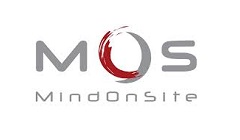 MOS Chorus is a highly flexible tool, ideal for deploying training programs for your internal staff and your extended organization in a very short period of time.

MOS Chorus is a SCORM-compatible LMS/LCMS platform, consisting of four natively integrated modules:

1- Administrative tool with a wealth of features, allowing managers to independently manage their training (e.g. dashboards, time-saving tools, automation of rules, notifications and reminders, Web services, and integration with HRIS, CRM or ERP).

2&3- Style and interface editors offering vast graphic potential: each company can adapt user portals to its own graphic charter and integrate the desired services.

4- Content editor allowing asynchronous (e.g. eLearning and questionnaires) and synchronous (e.g. classroom-based learning and coaching) coursework to be created, edited and combined. Rich and interactive content can be accessed both online and offline, on PCs, tablets and smartphones.

More details of this software