Press and News
Adobe Reports Strong Q1 FY2015 Financial Results
Company Announces Newest Offering, Adobe Document CloudAdobe (Nasdaq:ADBE) today reported financial results for its first quarter fiscal year 2015 ended Feb. 27, 2015.
Financial Highlights
Adobe achieved revenue of $1.11 billion, above the high end of the targeted range of $1.05 billion to $1.10 billion.
Adobe added 517 thousand net new Creative Cloud subscriptions in the quarter, which represents 28 percent year-over-year growth when compared to net new subscription additions in Q1 fiscal year 2014.
Creative Annualized Recurring Revenue ("ARR") grew to $1.79 billion, and total Digital Media ARR grew to $2.09 billion.
Adobe Marketing Cloud revenue was $311 million.
Diluted earnings per share were $0.17 on a GAAP-basis, and $0.44 on a non-GAAP basis.
Cash flow from operations was $183 million and deferred revenue grew to a record $1.18 billion.
A record 70 percent of Adobe's Q1 revenue was from recurring sources, compared to 52 percent of Q1 revenue in fiscal 2014.
The company repurchased approximately 2.4 million shares during the quarter, returning $174 million of cash to stockholders.
A reconciliation between GAAP and non-GAAP results is provided on Adobe's website.
Executive Quotes
"Adobe Marketing Cloud and Creative Cloud continue to be growth engines for Adobe," said Shantanu Narayen, Adobe president and chief executive officer. "We are excited about today's announcement of the Adobe Document Cloud, which brings innovative new capabilities, including built-in e-signing, to millions of customers."
"Fiscal 2015 is off to a strong start, and Q1 revenue and earnings are evidence of successful execution against our strategy," said Mark Garrett, Adobe executive vice president and chief financial officer.
Adobe to Webcast Earnings Conference Call
Adobe will webcast its first quarter fiscal year 2015 earnings conference call today at 2:00 p.m. Pacific Time from its investor relations website: www.adobe.com/ADBE. Earnings documents, including Adobe management's prepared conference call remarks with slides, financial targets and an investor datasheet are posted to Adobe's investor relations website in advance of the conference call for reference. A reconciliation between GAAP and non-GAAP earnings results and financial targets is also provided on the website.
Forward-Looking Statements Disclosure
This press release contains forward-looking statements, including those related to business momentum, product innovation and capabilities and the strength of our cloud business and growth of our revenue and earnings, all of which involve risks and uncertainties that could cause actual results to differ materially. Factors that might cause or contribute to such differences include, but are not limited to: failure to develop, market and distribute products and services that meet customer requirements, introduction of new products and business models by competitors, failure to successfully manage transitions to new business models and markets, fluctuations in subscription renewal rates, risks associated with cyber-attacks and information security, potential interruptions or delays in hosted services provided by us or third parties, uncertainty in economic conditions and the financial markets, and failure to realize the anticipated benefits of past or future acquisitions.
For a discussion of these and other risks and uncertainties, please refer to Adobe's Annual Report on Form 10-K for our fiscal year 2014 ended Nov. 28, 2014.
The financial information set forth in this press release reflects estimates based on information available at this time. These amounts could differ from actual reported amounts stated in Adobe's Quarterly Report on Form 10-Q for our quarter ended Feb. 27, 2015, which Adobe expects to file in March 2015.
Adobe assumes no obligation to, and does not currently intend to, update these forward-looking statements.
About Adobe Systems Incorporated
Adobe is changing the world through digital experiences. For more information, visit www.adobe.com.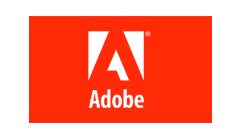 Adobe Captivate 9: Create any kind of eLearning end-to-end. For any device.
With new Adobe Captivate 9 you can create virtually any kind of aesthetically attractive and instructionally sound eLearning. Go seamlessly from storyboarding to responsive eLearning and everything else in-between using a single easy-to-use tool. Dip into the exclusive 25,000+ asset store to enrich your content. Enjoy the power of being able to create amazing courses that run seamlessly across desktops and mobile devices.
Learn more
More details of this software
Publisher press
> 11/05/2017 - Adobe Summit EMEA 2017: Creating Exceptional Customer Experiences

> 06/04/2017 - AI, VR, IoT and Kate McKinnon Headline Adobe "Summit Sneaks"

> 03/03/2017 - Adobe Empowers Businesses to Transform at Adobe Summit

> 22/02/2017 - The Role Of Critical Thinking In Modern Business Training

> 02/02/2017 - Adobe's Board of Directors Elects Adobe CEO Shantanu Narayen as Chairman

> 03/01/2017 - Adobe Completes Acquisition of TubeMogul

> 06/12/2016 - Adobe Data Shows Cyber Monday Largest Online Sales Day in History With $3.39 Billion

> 22/11/2016 - Adobe Named a Leader in Lead-to-Revenue Management Platform Vendors by Independent Research Firm

> 04/11/2016 - Creativity Pays: Global Survey From Adobe Links Being Creative to Stronger Personal and Professional Success

> 27/10/2016 - World's Top Creators Headline Adobe MAX

> 19/10/2016 - Adobe Named a Leader in Gartner 2016 Magic Quadrant for Digital Marketing Analytics

> 06/10/2016 - Media Alert: Adobe Survey Reveals Americans' Dependence on Email

> 16/09/2016 - Media Alert: Adobe Releases Lightroom for Mobile 2.5 Enabling Mobile DNG Raw Photography on iOS 10

> 08/09/2016 - Adobe Unveils New Virtual Reality, Character Animation and 3D Innovations at IBC 2016

> 15/07/2016 - Adobe Creative Cloud Innovations Take Creativity From Blank Page to Brilliant

> 27/06/2016 - Interview (e-learning): Gourav Sinha, Marketing Manager of Adobe

> 23/06/2016 - Adobe Positioned as a Leader in Gartner Magic Quadrant for Mobile App Development Platforms

> 07/06/2016 - Adobe Launches Spark: Visual Storytelling Apps for Everyone

> 26/05/2016 - Adobe Names Cynthia Stoddard as Senior Vice President and Chief Information Officer

> 13/05/2016 - Media Alert: Adobe Launches Public Sector Cloud Offerings on Amazon Web Services in Europe

> 04/05/2016 - Adobe Sign Debuts, Integrated with Adobe Marketing Cloud for Paperless Customer Experiences

> 22/04/2016 - Adobe Unveils Breakthroughs in Video and Film Production

> 08/04/2016 - Adobe Summit 2016: Are You An Experience Business?

> 29/03/2016 - Adobe Announces Cross-Device Co-op to Enable People-Based Marketing

> 11/03/2016 - Opera House Embarks on Digital Transformation with Adobe

> 16/02/2016 - Media Alert: Adobe to Unveil Next Generation Marketing Cloud at Summit

> 08/02/2016 - Adobe Video Tools Get Rave Reviews at Sundance 2016

> 14/01/2016 - Distracted and Device-Hungry: Global Consumers Demand That Brands Entertain Them

> 21/12/2015 - Accenture and Adobe Expand Alliance to Advance Digital Transformation for Life Science, Healthcare, and Financial Services Organizations

> 26/11/2015 - Adobe Named a Leader in Data Management Platforms by Independent Research Firm

> 31/07/2015 - Interview (e-learning): Priyank Shrivastava,director of product marketing at Adobe

> 23/06/2015 - Adobe Unveils Milestone 2015 Creative Cloud Release

> 04/06/2015 - Adobe Announces 2015 Release of Technical Communication Suite

> 26/05/2015 - Adobe Report Predicts Summer Travel Spend to Increase to $65 Billion

> 18/05/2015 - Adobe Advances Programmatic Advertising with New Dynamic Creative Technology

> 12/05/2015 - Adobe Advances Integration of Big Data with Creative Content

> 29/04/2015 - Adobe Delivers Major Innovations to Creative Cloud Photography

> 23/04/2015 - Adobe Positioned as a Leader in Gartner Magic Quadrant for Multichannel Campaign Management

> 26/03/2015 - Adobe Reports Strong Q1 FY2015 Financial Results

> 17/03/2015 - Adobe Pushes Boundaries of Marketing at Summit 2015

> 09/03/2015 - Adobe Photoshop Turns Twenty-Five

> 24/02/2015 - Media Alert: Adobe Summit to Feature Industry Luminaries, Digital Marketing Innovations

> 11/02/2015 - Adobe Launches Cloud Solutions for Government at Digital Government Assembly

> 03/02/2015 - Super 7 Tips To Create Responsive Courses with Adobe Captivate 8

> 23/01/2015 - Adobe Announces Program to Repurchase $2.0 Billion of Stock by End of FY2017

> 14/01/2015 - Top 5 productivity tips for Adobe Captivate

> 09/01/2015 - Adobe Positioned as a Leader in Gartner Magic Quadrant for Digital Marketing Hubs

> 05/01/2015 - Interview (e-learning): Dr. Pooja Jaisingh, Sr. eLearning evangelist of Adobe

> 16/12/2014 - Adobe Data Shows Cyber Monday Sales Up 16 Percent; Large Retailers See Biggest Gains

> 04/12/2014 - Adobe Learning Summit 2014 session recordings now available!

> 18/09/2014 - ADOBE LEARNING SUMMIT - Explore New Frontiers , Oct 27, Las Vegas

> 15/09/2014 - Adobe and Publicis Groupe Team Up to Deliver First Always-On Global Marketing Platform

> 04/09/2014 - Adobe Named a Strong Performer in Digital Experience Delivery Platforms by Independent Research Firm

> 24/06/2014 - Adobe Presenter 10 Enables on-Demand eLearning

> 10/03/2014 - Organize your eLearning Projects: Grouping Slides in Adobe Captivate 7

> 30/09/2013 - Thematic case study (e-learning) : Rapid learning and mobile learning, the major trends by Adobe

> 03/09/2013 - Adobe Releases Presenter 9 – Simple, Intuitive Software for Effective Communication with a Virtual Audience

> 23/08/2013 - Adobe Announces Captivate 7 – Everything You Need to Create in eLearning