Press and News
CrossKnowledge is part of the "TOP 20 Content Development Companies List 2015"
CrossKnowledge, leading provider in the field of distance learning, has been selected as one of the "T0P 20 Content Development Companies" by Trainingindustry.com for the second year in a row.
Already part of the «TOP 20 Authoring Tools list » and the "TOP 20 Leadership Training list" in 2015, this new selection confirms CrossKnowledge's place among the major players in the training sector, able to support its clients through all their training challenges.
This year's Top 20 Content Development Companies List was based on the following criteria:
Industry visibility, innovation and impact
Capability to deliver multiple types of content
Company size and growth potential
Depth and breadth of subject matter expertise
Strength of clients
Geographic reach
"The Top 20 Content Development list serves as a source of innovation and new ideas every year," said Ken Taylor, president, Training Industry, Inc. "The companies on this year's list continue to create superior and engaging content for all modalities.This year's Top 20 Content Development companies are finding unique and effective ways to design learning programs to support employee, partner and customer development across all industries," said Doug Howard, Chief Executive Officer, Training Industry, Inc.

"This recognition rewards not only the quality of the training content but also the relevance of the learning paths developed to answer our clients' specific needs. We take great pride in creating a truly engaging learning experience, designed to fit learner's situation and contributing to reach clients' objectives" stated Steve Fiehl, Chief Innovation Officer of CrossKnowledge.
www.crossknowledge.com/en
---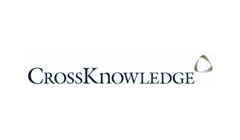 The CrossKnowledge suite is a cloud-based technological platform made up of exclusive applications dedicated to the deployment of your training strategies. It allows you to implement blended learning and social learning programmes, to develop distance learning content and skills assessment programmes… or to organise combinations of these different types of project.

It allows you to implement the following:
• blended learning projects using our Training Solutions technology;
• social learning projects using our Community Solutions technology;
• mentored learning projects using our Mentoring Solutions technology;
• professional e-learning content development using our Mohive authoring tool. … and to offer a new learning experience.

CrossKnowledge believes that such a platform must not be restricted to classroom and e-learning strategies, but must combine formal and informal learning (on-line dialogues, blogs, etc.), long-term learning paths and immediate training, and PC-based and mobile learning experiences, all built into a single Learning Portal.
More details of this software
Publisher press
> 02/05/2017 - CrossKnowledge: Top 20 Training Outsourcing Companies

> 07/02/2017 - Interview (e-learning): Steve Fiehl, co-founder & CIO of CrossKnowledge

> 06/01/2017 - MOOC: From one-on-one training to collective knowledge-building

> 20/12/2016 - Boost your L&D visibility & credibility – The Annual Learning Report

> 05/12/2016 - Get Big Things done through Connectional Intelligence: a new videocast program by Erica Dhawan

> 08/11/2016 - OpenBooks: A new collection to drive workplace performance and productivity

> 12/09/2016 - CrossKnowledge launches a new training technology that transforms individuals as well as the company.

> 31/08/2016 - In our increasingly digital world, empathy and connection are essential tools for establishing more human interactions.

> 19/07/2016 - Management 3.0 : a new videocast program by Jurgen Appelo

> 15/06/2016 - CrossKnowledge is proud to support the Towards Maturity Benchmark Study.

> 30/05/2016 - Crossknowledge is proud to support the Towards Maturity Benchmark Study

> 14/04/2016 - CrossKnowledge rewards its partners with "Partner of the Year Award"

> 16/03/2016 - CrossKnowledge offers fully integrated solution as answer to mobile learning challenges

> 04/03/2016 - Collaboration Superpowers: a new videocast by expert in remote teams, Lisette Sutherland

> 17/02/2016 - MySalon-Edu, first MOOC for hairdressers and beauticians, developed with L'Oreal

> 02/02/2016 - 5 years of collaboration with Clarins: the CrossKnowledge solutions deliver real impact on business

> 18/01/2016 - Designing an agile organization: a new videocast program by Christopher Worley

> 22/12/2015 - 2015 Brandon Hall Excellence Awards

> 13/11/2015 - Big data and digital organizational culture

> 30/10/2015 - CrossKnowledge partners with Junior Achievement USA to support future entrepreneurs

> 23/09/2015 - Brandon Hall honors CrossKnowledge with 2015 Excellence Awards

> 10/09/2015 - CrossKnowledge announces its participation at World of Learning 2015 in Birmingham

> 20/08/2015 - CrossKnowledge named to 2015 Top 20 Learning Portal Companies List by Trainingindustry.com

> 24/07/2015 - CrossKnowledge launches "Learn" app

> 17/07/2015 - 6 new Sessions on Key Account Management

> 03/07/2015 - Testimonials: Ricoh Americas and Credit Libanais share their CrossKnowledge experience

> 27/05/2015 - CrossKnowledge is part of the "TOP 20 Content Development Companies List 2015"

> 19/05/2015 - 11 new videocasts on Lean Management with Gad Allon, Professor at the Kellogg School of Management

> 13/05/2015 - Back to Talent 2015, the CrossKnowledge Academy Conference

> 15/04/2015 - New Feature in the CrossKnowledge Learning Suite : LinkedIn

> 27/03/2015 - 13 new videocasts on the digital transformation of businesses with David R. Bell, Professor at The Wharton School.

> 06/02/2015 - Gavisus partners with CrossKnowledge to provide Nordic leadership development programmes

> 22/01/2015 - CrossKnowledge: 2015 Top 20 Authoring Tools Companies by Training Industry

> 15/01/2015 - CrossKnowledge Honored as Top E-Learning Company by 2014 Brandon Hall Excellence in Technology Awards

> 27/11/2014 - 11 new videocasts about digital transformation by Martha Gabriel

> 18/11/2014 - 12 November 2014 New Modules Improve the E-Learning Experience through Intuitiveness, Scalability and Mobility

> 28/10/2014 - Learning is Shifting, Changing, Expanding, Compressing and Personalizing!

> 16/10/2014 - CrossKnowledge Honored by Chief Learning Officer Magazine for Excellence in Blended Technology

> 29/09/2014 - Executives forecast increasing connection between business outcomes and workforce development

> 28/08/2014 - CrossKnowledge is a finalist of the Learning in Practice awards!

> 16/04/2014 - Wiley Signs Definitive Agreement to Acquire CrossKnowledge

> 24/03/2014 - Medicinfo and CrossKnowledge join forces to launch a unique e-health & wellbeing solution

> 19/12/2013 - ACCA announces new tripartite partnership with CrossKnowledge and BPP to deliver Continuing Professional Development

> 15/11/2013 - New videocast series about "Key Account Management" with Diana Woodburn

> 11/10/2013 - CrossKnowledge Named to "2013 Top 20 Learning Portal Companies List" by Trainingindustry.com

> 09/09/2013 - CrossKnowledge takes over Digital SK and plans to speed up investments in Brazil.

> 08/07/2013 - CrossKnowledge Learning Suite, release 13.1

> 03/06/2013 - Interview (e-learning) - Steve Fiehl, Chief Innovation Officer from CrossKnnowledge - answers our questions