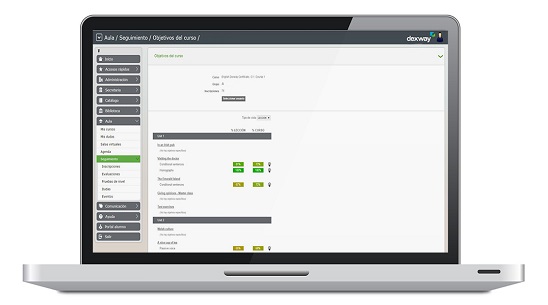 Computer Aided E-learning, a pioneer in developing and implementing education and training solutions supported by technology, turns 35 years innovating in training services of the highest quality. Dexway, CAE's specialised language division, offers an intuitive way to learn English in the classroom, where the students learn and progress in the language practicing each new concept in a natural and progressive way.

CAE Analytics

CAE launches a new advanced functionality for analysing and monitoring. Analytics allows to analyse the evolution of the students individually or in groups, each lesson or unit and knowing always this results or progress, including verification of the level of the results of the partial and final test included in Dexway English courses.
So it enables educators to easily know their students group and depending on its results determine the needs to strengthen, and work on weaknesses and/or deficiencies during class time. In addition it is also an advantage in every way for students and thanks to this system may reinforce all points or lessons on the agenda in those gaps or harder, so strengthening learning.
Analytics detects effortlessly and in real time what points the vast majority of students are not understanding and/or developing their skills properly and proposed for class time reviewing the weak and needed points in order to improve learning for all the group lessons are really needed.
Dexway, knows that the best way to learn English is through flipped classroom, an innovative methodology that allows an optimization of time in class, providing the teacher influence the points that students should actually strengthen, making the classes more creative and especially participatory, so making the student the centre of learning.
The new functionality, CAE Analytics, enriches this methodology offering teachers and students a complete and detailed overview of the objectives that each course aims to achieve. A competitive advantage that will certainly complement your difference and offer training solutions for education, making life easier for teachers and students achieving success in learning English.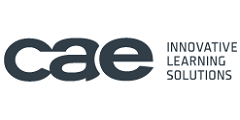 Verxact, the LMS (Learning Management System) software developed by Computer Aided E-learing, is a complete e-learning platform conceived to allow the integrated online, blended and face to face training of all your collaborators in different subsidiaries and brands; making the most of, and heightening, the synergies and developing skills in a specific way, thus leading to a more efficient and profitable management of training budgets.
Verxact platform allows creating training programs, incorporating SCORM courses from different providers as well as courses and own materials without having knowledge of computing.

It allows you to:

• Implement online, blended and face to face training proyects.
• Create customized courses under the SCORM / AICC standard using contents developed by the center from any format.
• Create your own test under IMS / QTI standard with multiple question formats.
• Evaluation and monitoring through customized reports.
• Raise unlimited courses to the platform.
• Unlimited students for courses.

More details of this software