We are delighted to announce the global availability of the Docebo 6.2 version, a totally enhanced version with features and apps that bring the LMS to an Enterprise level via an Isolated Cloud single-tenant instance.
Following the October 2013 release when we launched a new user interface created to bring design excellence into the LMS space – this new product update with subscription plans for up to 20,000 users means that Docebo's leading industry solutions will now support both mid-sized and large enterprises by streamlining Training Programmes, maximizing the return on L&D investments, and at the same time arm employees with knowledge and performance readiness.
Docebo will now fight head-to-head with well-established players such as Cornerstone OnDemand, but brings a stronger competitive advantage thanks to the flexible of monthly SaaS plans.
Discover what's new:
The 6.2 version allows you to activate the Enterprise Cloud App that run the LMS on an Isolated Cloud single-tenant instance, giving you access to a comprehensive package of Apps for world-class e-learning delivery.
By activating the ILT-Classroom App, you can easily manage ILT and blended training activities
In a few steps you can easily organize:
Courses and Sessions
Classrooms
Locations
Enrollments
Assessments and Evaluations
New Features
- Assignment: upload and share Learning Objects ready for evaluation
- Widgets: instructor's widget that lists the instructor for your lesson; course description and session info, providing detailed information about a specific classroom session
By activating the Enterprise Cloud Solution (ECS) App, you'll access the "all in one" solution
- Gold Help Desk: access support excellence, available 24/7
- E-Commerce: to sell your courses and transform your LMS into a revenue generating system
- Custom Domain: to easily customize the e-learning platform domain
- White-labeling: to fully rebrand your Learning Management System
The 6.2 also offers a brand new subscription plan tailored for mid-sized and large organizations, available for up to 20,000 users. The 25 users per month plans will no longer be available, however customers currently on the 25 users plan will not be affected unless they upgrade to a 50 users plan.
www.docebo.com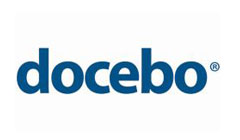 In the E-learning market since 2005, Docebo Learning Management System has been selected and used by more than 12.000 organizations worldwide. Docebo is an E-Learning Software "As a service", enabling organizations of all sizes to plan, deliver and certify online and classroom training activities. The main products (Docebo SAAS and Docebo Premium) are designed for both SMBs (Small and Medium businesses), Enterprise and Non-Corporate customers (K12, Online Universities, Government agencies, Non-Profit organizations). Docebo raised about $3 Million in Venture Capital during 2012.
More details of this software