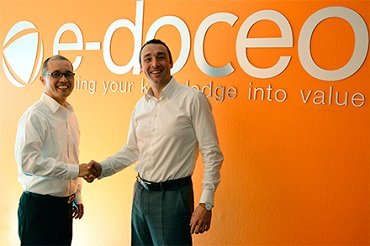 Today, e-doceo is announcing its expansion into Asia. A new challenge for the software vendor dedicated to distance training, making a great step forward here in its international development.
Singapore, Asia's Silicon Valley
The city-state is one of the countries with the highest levels of digital evolution in the world. Known for a dynamic environment that is highly favorable to digital entrepreneurs, it also plays host to some of the biggest names in high-tech, including Google and Microsoft. "Our new facilities in Singapore offer us a unique gateway to the Southeast Asian market: Thailand, Malaysia and Indonesia are all undergoing continuous digital evolution, which means tremendous potential for us to conquer," confides Jérôme Bruet, e-doceo's Managing Director.
Hong Kong, a springboard for conquering China
Asia is the place where there are the most users of smartphones and tablets, with China and South Korea as the front-runners in converting all their high schools and universities to digital. With more than 47% of its foreign trade with China, Hong Kong was the natural choice for e-doceo's second foothold in Asia.
Teng Mun Chow is the new General Manager of e-doceo in Asia. He was chosen for the ambitious challenge of making e-doceo the leading supplier of e-learning solutions in Asia. He will undoubtedly be putting his 25 years' experience in the IT industry with Intel and Microsoft, as well as his excellent knowledge of the market in this region of the world, to use in this new venture.
"We have just taken an additional step forward in strengthening our presence abroad. The expansion of our offices is essential to the long-term growth of our sales and to the development of local services to better meet our international clients' needs," reports e-doceo Managing Director Jérôme Bruet.
Singapore and Hong Kong are opening doors in Asia. They will enable the company to shore up its international development strategy and expand its field of action. e-doceo now counts close to 6 million users around the world, a figure that will undoubtedly increase exponentially on these new markets.