How to get work done, better and quicker with the software of Genius Inside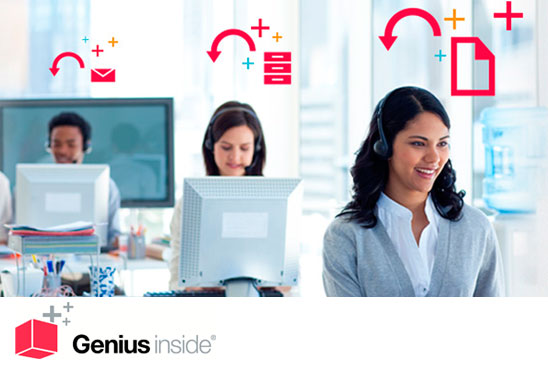 >> Watch our free product tour
Do you think you need an ERP solution that integrates a CRM brick or should the two be separate ?
Christophe Borlat : A good CRM system needs to be comprehensive and therefore it is difficult to have it directly in the ERP. However, it is important and necessary to have integration options for the user's comfort. Indeed, having to use various systems for related tasks will inevitably lead to inefficiency with errors and oversights. For example, our project management software offers integration modules allowing the user to manage his projects and the variety of communications and documents linked to it within a single interface in order to optimize productivity and avoid loss of information. An integration is also necessary to ensure consistency and follow-up of information, from the beginning until the end.
What is your position in the field of project management ?
Christophe Borlat : Genius Inside offers a Project Management software since 1997, available with on-line and on-premise options. We have been delivering our solutions to companies of all sizes and in all business areas. Our primary differentiator is the ability for our software to adapt to a company's specific needs (and not the other way around). Our positioning reveals our belief in the fact that a complete solution doesn't need to be complicated and only available for field experts. We try to provide the most user-friendly solution possible with the best project management capabilities to meet the daily requirements of the user.
You currently have a presence in Europe and the United States, what differences do you see in practical usage ?
We think that it is more the type of industry or the size of the company that has a bigger impact on use or ERPs and project management softwares. Some industries have specific quality standard they need to follow and need therefore a precise system with detailed steps and information to limit deviances. For example, a manufacturing company will focus on schedules, timing and milestones to control its production. Other types of companies may focus more on workload management and placing the correct resource at the correct time and place. Finally others may have a need to organize their processes and centralize their information.
However, the lack of time seems more prominent in the USA and the need to access the information anytime and anywhere greater. They focus more on the usability of the software and look and feel, and because of this lack of time they test the user-friendliness of the software. Therefore our SaaS version receives an even bigger success the other side of the ocean.
It seems that Europe is more likely to ask for a lot of personalization in order to fit exactly to their requirements, North America use the software as it is.
You provide your solution both as SaaS and as a local installation, which approach has been more popular with your clients in recent months ?
Christophe Borlat : Both model are very appreciated, even though we can see a tendency towards the SaaS option. It really depends on the needs of the company, but in this period of crisis, corporations are less inclined to make larger investments at once and therefore will prefer the SaaS solution that spreads the cost over the time.
With our SaaS solution, customers do not need to purchase or have any additional hardware installed on their end. Genius Project can be accessible anywhere and at any time with any standard web browser. Customers pay an annual subscription for licenses eliminating any significant initial upfront investment. As part of the subscription, we take care of the maintenance and updates of the software. On the customer side, this mean a reduced effort on IT to manage the product resulting in additional cost savings in their investment.
The On-Premise solution is recommended if you have a mid or long-term perspective of using the software, and only requires a one-time investment. Moreover, If the product is installed on your servers your business can benefit from better data accessibility and data security. Indeed, with an in-house hosting, the customer has a better control over the data. Also, integration of other softwares tends to be more flexible since it resides behind your firewall on your servers.
What are good practices in ERP / project management ?
Christophe Borlat : Although it is true that ERP systems are the operational and financial backbone of most organizations, they tend to fall short in effectively tracking time and labor costs that project practitioners demand to efficiently track the detailed labor activities associated to their projects. The project management world requires a flexible labor and time tracking system that can easily map to their project plans regardless of their complexity. Hence, the birth of the project portfolio management (PPM) system.
Therefore, many companies are equipped with both tools, and this "PPM and ERP Relationship" cannot be treated as an afterthought. While the PPM system will always be the primary tool of choice for project practitioners, for many organizations, ERP will always be intricately tied to the projects housed by PPM delivering the critical financial data required to get a full picture of progress and status. Consequently, the real challenge lies with building the best integration between both systems so that the exchange of data works in harmony and does not add another layer of complexity that will hurt the existing ecosystem of applications. The goal is to let each system do its job and exchange only the necessary data between the disparate systems adding value to the business.

Interview with Christophe Borlat,
Managing Director Sales & Marketing of Genius Inside,
collected by bsoco.
www.geniusinside.com
Infomercial - 10/25/2013