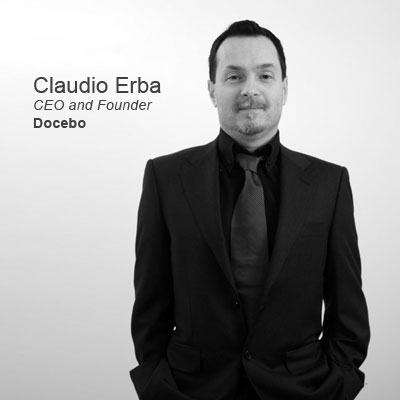 bsoco : Could you please briefly introduce your company ?
Claudio Erba : Docebo is an IT company specialized in "integrated" E-Learning solutions. We deliver our in-house developed E-Learning platform (or Learning Management System) as well as our Apps and Online Courses Marketplaces. Docebo has customer operations in more than 150 countries, with an extensive partner network in 26 countries in the world. Founded in 2005 as an "open source" company, we have now brought our business on the Cloud, thanks to a Venture Capital back-up that allowed us to disrupt the E-Learning market with innovative services and solutions.
bsoco : How would you characterize your software solution ?
Claudio Erba : Our "Docebo Cloud" learning management system is part of an integrated and disruptive E-Learning ecosystem, as it comes along with our Online Courses and Apps Marketplace. Our Customers are able to deploy and activate their own E-Learning platform "as a service": this means reduced time-to-market and lower implementation costs. The Apps are offered to enhance our LMS capabilities, while Courses can be bought and delivered by companies literally within minutes, and via a "pay per seats" formula. One of the Docebo Cloud pillar is the pricing model: definitely aggressive, it is also highly scalable, as customers can change their subscription plan on monthly basis with a "pay per use" approach able to let them pay just for what they really need.
bsoco : What kind of customers do you aim and what benefits would your software bring to your customers ?
Claudio Erba : Our E-Learning platform is really flexible. This is why we are able to work with both Small Business and Enterprises. Business of any kind and size need to train workforce (for skills improvement, health and safety and so on...) we just provide them with a "service" to let them deliver this training in a efficient and cost-effective way. The E-Learning market is still focused on huge and overwhelming "projects", while we're pushing the new "service" approach: much faster, agile and absolutely ready to go. Do you need to deliver corporate training? Here we go: you can make it online, and by adopting Docebo you can make it happen today, without having to wait 6 months to kick-off your expensive project.
bsoco : What are future challenges in the area of e-learning and are you ready to incorporate this trends ?
Claudio Erba : The E-Learning market is facing a couple of challenges. The first one is about "complexity". We need to make E-Learning and LMS easier, like actual CMS and E-Commerce application. We're already on this, and our LMS is today one of the simplest (yet features-rich) on the market. The second challenge is all about the "technology". Each LMS must be "up to date" by incorporating upcoming and disrupting technologies. As Docebo, we're today an official Tin Can adopter (Tin Can is the next generation of the SCORM standard) because we are really committed in improving our product day by day, so to offer the best in-class Online Training tool to worldwide companies.
www.docebo.com