Press and News
Interview (e-learning) - Steve Fiehl, Chief Innovation Officer from CrossKnnowledge - answers our questions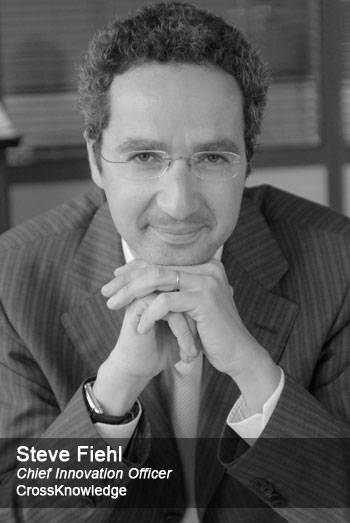 bsoco : Let's talk about your company. What kind of products or services does it offer?
Steve Fiehl : CrossKnowledge offers a training management platform that allows organisations to deploy various learning formats (not only blended learning and mentored learning, but also communities of practice and interest) and to maximise their return on training investment. We also have a whole range of e-learning content, with a catalogue of over 17,000 resources available in 16 languages focusing on management and leadership, developed with the help of professors from the world's top business schools. Last but not least, our collaborative platform, Mohive, is an e-learning development tool designed to address all the issues connected to professional training strategies.
bsoco : Who is your software designed for, and what are its key functionalities?
Steve Fiehl : CrossKnowledge solutions are designed for HR, training, and L&D departments. Whatever the training needs, our solutions ensure effective development of the skills required by the organisation:
- by covering all the knowledge in the organisation: expert professional knowledge, informal discussions in communities, best practices, etc.
- by aggregating all forms of training content selected by the organisation: course catalogues, off-the-shelf e-learning content, custom content, games, videos, RSS feeds, etc.
- by disseminating this content via exclusive training formats: blended paths making it possible to alternate face-to-face and distance learning and collective and individual experiences, on-going trainer/learner interactions; mentored "on-the-job" individual training paths; communities of practice focusing on shared aims and training content, encouraging peer-to-peer interactions; self-learning and training on demand, etc.
- all this via a single access portal offering attractive, customised learning experiences.
bsoco : What do you see as the strong points of your company in this competitive market? What makes you different?
Steve Fiehl : All the technology and content we develop is designed to ensure that learning serves corporate strategy and builds a true learning organisation. We invest massively in development and integrate the latest innovations to make sure we respond fully to our clients' expectations. But as well as functional aspects, we take special care to support the development of training projects, in particular by offering high-level expertise in designing and running courses. We position ourselves as a long-term partner for training departments.
bsoco : What do you think e-learning can bring to an organisation?
Steve Fiehl : Today, distance learning represents an increasing proportion of skills development initiatives: the growth of the sector reflects this. True, in a tense economic climate, organisations see it as a way of streamlining costs; but they are also aware that this type of initiative allows them to train more staff more quickly.
The maturity of organisations with respect to new learning technologies also leads them to think about innovative approaches such as informal learning or the 70/20/10 model.
bsoco : Thank you.

Mohive allows you to produce professional quality modules for a great learner experience (Learner Experience) very easily (Easy to use) and in an industrial way, for the whole organisation (Scalability)

Learner Experience
Creation of advanced level rich-media content that is interactive and highly effective for a great learning experience.

Easy to use
No need for in-depth technical knowledge, just a bit of computer literacy.
No need for pedagogical skills, just a bit of common sense and creativity.
No need for extensive training to create content with Mohive.

Scalability
Mohive makes it possible for people to design custom e-learning content thanks to a unique platform that simplifies each step of the development process. The only solution on the market to feature an integrated project management tool, Mohive allows its users to cut production lead times considerably, especially when many different people are involved.

User-friendly and intuitive, Mohive puts e-learning content development within everyone's reach and facilitates the collaborative development and enhancement of company-specific content.

Mohive is also extremely flexible in terms of customising content. It offers a series of 29 templates that allow a wide range of exercises to be created easily, including multiple-choice questionnaires, drag-and-drop exercises, videos and discovery exercises. Mohive also has a media library feature which means that users can select and reuse images from an existing company image database.
More details of this software
Publisher press
> 02/05/2017 - CrossKnowledge: Top 20 Training Outsourcing Companies

> 07/02/2017 - Interview (e-learning): Steve Fiehl, co-founder & CIO of CrossKnowledge

> 06/01/2017 - MOOC: From one-on-one training to collective knowledge-building

> 20/12/2016 - Boost your L&D visibility & credibility – The Annual Learning Report

> 05/12/2016 - Get Big Things done through Connectional Intelligence: a new videocast program by Erica Dhawan

> 08/11/2016 - OpenBooks: A new collection to drive workplace performance and productivity

> 12/09/2016 - CrossKnowledge launches a new training technology that transforms individuals as well as the company.

> 31/08/2016 - In our increasingly digital world, empathy and connection are essential tools for establishing more human interactions.

> 19/07/2016 - Management 3.0 : a new videocast program by Jurgen Appelo

> 15/06/2016 - CrossKnowledge is proud to support the Towards Maturity Benchmark Study.

> 30/05/2016 - Crossknowledge is proud to support the Towards Maturity Benchmark Study

> 14/04/2016 - CrossKnowledge rewards its partners with "Partner of the Year Award"

> 16/03/2016 - CrossKnowledge offers fully integrated solution as answer to mobile learning challenges

> 04/03/2016 - Collaboration Superpowers: a new videocast by expert in remote teams, Lisette Sutherland

> 17/02/2016 - MySalon-Edu, first MOOC for hairdressers and beauticians, developed with L'Oreal

> 02/02/2016 - 5 years of collaboration with Clarins: the CrossKnowledge solutions deliver real impact on business

> 18/01/2016 - Designing an agile organization: a new videocast program by Christopher Worley

> 22/12/2015 - 2015 Brandon Hall Excellence Awards

> 13/11/2015 - Big data and digital organizational culture

> 30/10/2015 - CrossKnowledge partners with Junior Achievement USA to support future entrepreneurs

> 23/09/2015 - Brandon Hall honors CrossKnowledge with 2015 Excellence Awards

> 10/09/2015 - CrossKnowledge announces its participation at World of Learning 2015 in Birmingham

> 20/08/2015 - CrossKnowledge named to 2015 Top 20 Learning Portal Companies List by Trainingindustry.com

> 24/07/2015 - CrossKnowledge launches "Learn" app

> 17/07/2015 - 6 new Sessions on Key Account Management

> 03/07/2015 - Testimonials: Ricoh Americas and Credit Libanais share their CrossKnowledge experience

> 27/05/2015 - CrossKnowledge is part of the "TOP 20 Content Development Companies List 2015"

> 19/05/2015 - 11 new videocasts on Lean Management with Gad Allon, Professor at the Kellogg School of Management

> 13/05/2015 - Back to Talent 2015, the CrossKnowledge Academy Conference

> 15/04/2015 - New Feature in the CrossKnowledge Learning Suite : LinkedIn

> 27/03/2015 - 13 new videocasts on the digital transformation of businesses with David R. Bell, Professor at The Wharton School.

> 06/02/2015 - Gavisus partners with CrossKnowledge to provide Nordic leadership development programmes

> 22/01/2015 - CrossKnowledge: 2015 Top 20 Authoring Tools Companies by Training Industry

> 15/01/2015 - CrossKnowledge Honored as Top E-Learning Company by 2014 Brandon Hall Excellence in Technology Awards

> 27/11/2014 - 11 new videocasts about digital transformation by Martha Gabriel

> 18/11/2014 - 12 November 2014 New Modules Improve the E-Learning Experience through Intuitiveness, Scalability and Mobility

> 28/10/2014 - Learning is Shifting, Changing, Expanding, Compressing and Personalizing!

> 16/10/2014 - CrossKnowledge Honored by Chief Learning Officer Magazine for Excellence in Blended Technology

> 29/09/2014 - Executives forecast increasing connection between business outcomes and workforce development

> 28/08/2014 - CrossKnowledge is a finalist of the Learning in Practice awards!

> 16/04/2014 - Wiley Signs Definitive Agreement to Acquire CrossKnowledge

> 24/03/2014 - Medicinfo and CrossKnowledge join forces to launch a unique e-health & wellbeing solution

> 19/12/2013 - ACCA announces new tripartite partnership with CrossKnowledge and BPP to deliver Continuing Professional Development

> 15/11/2013 - New videocast series about "Key Account Management" with Diana Woodburn

> 11/10/2013 - CrossKnowledge Named to "2013 Top 20 Learning Portal Companies List" by Trainingindustry.com

> 09/09/2013 - CrossKnowledge takes over Digital SK and plans to speed up investments in Brazil.

> 08/07/2013 - CrossKnowledge Learning Suite, release 13.1

> 03/06/2013 - Interview (e-learning) - Steve Fiehl, Chief Innovation Officer from CrossKnnowledge - answers our questions