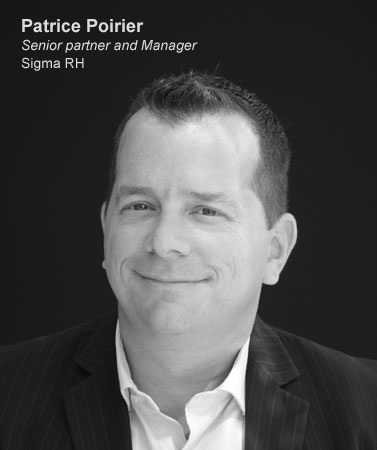 bsoco : Your company was founded in 1996. Could you describe your path from start-up to mature company. What does distinguish you from the others on the market nowadays?.
Patrice Poirier : At SIGMA-HR, we are optimizing our customers' processes, but we also start revolutionary trends. We're not offering one or two new spectacular functionalities, and leaving the rest aside. Over the years, our products have been improved to include a wide range of functionalities. Our current products are constantly being upgraded to reflect the changing needs of the marketplace For example, in the latest version, we introduced geolocation tools, which can be used to know the employees' or candidates' travel time to work, to select the closest training firm, and to locate the occupational risks and workplace accidents in the company. These tools are based on the most current technologies, and they can be useful for the employees and the organization. It's not just "bells and whistles"! We're talking about tools with a true added-value for the HR department in the organization.
I would say that SIGMA-HR has the maturity of a 21 year-old company, but we ignore our age. We continue to innovate and explore new avenues. Everyone would love to be 20 years old with the experience they have at 40! At SIGMA-HR, that's what we do all the time. We're continually renewing and improving our product by using all our years of experience.
bsoco : Your company is present in many countries, is the point of view on HRIS in these countries divergent or consensual ?
Patrice Poirier : The culture of each country has a major impact on HR management. In some countries, HR management is done without really taking into consideration the return on investment for the company's finances. In other countries, the ROI is the only thing that matters. At SIGMA-HR, we believe HR management must take into consideration the return on investment for the company. HR managers must consider the absence rate, the turnover rate, the occupational risks and the workplace accidents that may occurred, and which are costly (in money and loss of talents) to any organizations. This mix of interests benefits both the employees who can move forward within the organization, and the company which ensures its long-term viability and success.
bsoco : What are the main features of your software ?
Patrice Poirier : SIGMA-HR.net is an integrated HR management solution. We don't focus on one single aspect of HR management, we cover all processes: recruitment, in boarding, talent management, training, time and attendance, management of workplace accidents and risks. These are only a few of the functionalities available in a single software application that allows the interaction of information between each module. We also have tools that automate the production of non-value-added tasks. For example, reports, dashboards and data analyses can be produced automatically with the SIGMA Personal Assistant as often as you need. SIGMA-HR is extremely flexible. It can be customized to each company's business processes. This has always been one of our strengths.
bsoco : Are there any traps that need to be avoided when starting an HR project ?
Patrice Poirier : Two traps: at first, we have to stop seeing HRIS as several independent software applications used to manage different HR processes. HR Visionaries (HRV) know that it's only by having all data interacting between themselves that they will have all the information to help their organization. By isolating each process, HR will always be reduced to "staff management". And it's not the case. It's a strategic position that needs people with a vision.
Second: Never minimize an HRIS project. Most departments in any organization do not realize the phenomenal quantities of complex data the HR department has to deal with on a day to day basis. If someone is promising you to implement an HRIS in your company within 10 days, they are only telling you what you want to hear. In 10 days, the only thing that can be done is to implement a database that will allow you to do "staff management". There is no added-value for the HR department. HR will remain a cost centre with no real power on the orientation of the company.
But if you have a global vision, and you tie in the HR development objectives with the needs in staff management and a growth vision, you will implement an HRIS that will help you cover all your needs. In terms of deployment, it's more complex, because it forces you to think about what you want to do with your HRIS project. But in the long term, such an approach can only help employees, HR and the entire organization. The HR department will become an active participant in your organization's strategic plan.
www.sigma-rh.com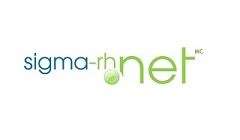 SIGMA-HR is a leader in Human Resources Information Systems (HRIS). Our software, SIGMA-HR.net, is a totally different solution that allows human resources departments to be an integral part in the decision-making process in an organization. A full HR suite, completely integrated for all HR needs.

A mix of flexibility, automation, reliability, and innovations.

SIGMA-HR.net covers all areas relating to human resources management, except payroll:

- Administrative management;
- Talent management (training, jobs and skills management, recruitment, interviews and evaluations);
- Time off requests, absences and time management (including employee scheduling and time clocks);
- Workplace accidents, occupational risks, medical visits and hard-working conditions;
- Workflows and self-service customized for each category of users.

As a world first, SIGMA-HR.net is the only application to include geolocation tools specifically applied to HR. Our integrated HR software offers new functionalities that will become the standard for any next generation HRIS. Some of the new features are:

- Increase employees' satisfaction;
- Simplify recruitment and training;
- Reduce extra costs relating to remote learning;
- Allow the localization of workplace accidents, occupational risks and accidental exposures to chemical products.
These are only a few examples of concrete applications of geolocation in HR management!

Our HRMS is currently installed and used worldwide. The cloud-based HR software market (SaaS) is growing fast and our technological innovations are placing us way ahead of our competitors.

More details of this software