Press and News
Interview (management) - Christophe Borlat, manager of Genius Inside, answers our questions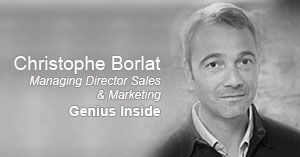 bsoco : Could you tell us more about your company?
Christophe Borlat: Genius Inside was founded in 1997 responding to the need for Project Management software in the Lotus Notes community. Since then, the company has broadened its footprint and now offers Project Management software delivered on-line and on-premise along with its continued enhancements to its Lotus Notes offering. Today Genius Inside is deployed to 650+ customers and used by over 65,000 people worldwide.
bsoco : What are your company's main strengths in the highly competitive PPM market? How do you differentiate yourself?
Christophe Borlat : Our key strengths are our knowledge and expertise in the Project Management field. For the last 15 years, we have been delivering our solutions to companies of all sizes and in all areas business. Our primary differentiator is the ability for our software to adapt to a company's specific needs (and not the other way around). Almost all business processes can be modeled in our solution without any programming required by simply leveraging our powerful workflow engine. Subsequently, we also offer industry templates specifically tailored to New Product Development (NPD) and IT projects.
bsoco : What are the main benefits for your customers using your SaaS solution?
Christophe Borlat: With our SaaS solution, customers do not need to purchase or have any additional hardware installed on their end. Genius Project can be accessible anywhere and at any time with any standard web browser. Customers pay an annual subscription for licenses eliminating any significant initial upfront investment. As part of the subscription, we take care of the maintenance and updates of the software. On the customer side, this mean a reduced effort on IT to manage the product resulting in additional cost savings in their investment.
bsoco : You have recently launched a new version of Genius Project. What are the main differences and similarities between the 2 versions?
Christophe Borlat : Our latest version Genius Project V7.0 now offers a social collaboration Platform – Genius Live! allowing project stakeholders to view all project information at a glance in a single location. A "Wall" similar to those provided by popular social media platforms like Facebook, informs users of the latest changes in their projects. With Genius Live! there is no need to search for information; now the information finds you!
Our latest version also has a new user interface developed to provide improved access to all functions in our solution. Genius Project V7 still has all the same features as the previous versions but with a new enhanced interface facilitating improved user adoption.
bsoco : Good luck !
www.geniusinside.com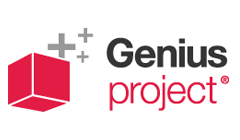 Designed to adapt to your organization's business processes, Genius Project delivers a highly flexible and configurable portfolio and project management software allowing tailored feature sets for a wide array of project teams and project types.

You can choose between a SaaS or On-Premise version, depending on your requirements. There is also a version specific for Lotus Notes Users.

Benefits
- Improve project visibility
- Avoid resources' bottleneck
- Standardise processes and approbation workflows
- Improve team collaboration

Features:
- Project Portfolio Management
- Planning & Gantt Chart
- Resource Management
- Time & Expense Tracking
- Project Tracking
- Cost & Budget Management
- Invoicing
- Invoicing
- Demand Management
- Document Management
- Genius Live! Social Team Collaboration
- Risk & Change Management
- Dashboards & Reporting
- Simulator "What-if" Scenario Planning
- Help Desk
- Agile Scrum Support
- Phase Review Support
- Workflow Engine
- Genius Connector
More details of this software