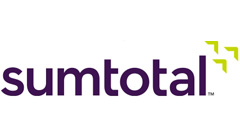 New Features and Integrations Drive Pervasive Learning throughout Company Culture to Develop and Secure Top Talent.
SumTotal Systems, LLC, a Skillsoft company and a leading provider of next-generation HR solutions, today announced its latest Talent Expansion® suite enhancements, which feature new ways for organizations to proactively engage, develop and retain employees so they can continue to differentiate and compete in today's rapidly evolving business world. The company will showcase its new Talent Expansion capabilities and future innovations – including smart watch technology, user-generated mobile video content and new role- and event-based talent dashboards – at the 2014 HR Technology Conference, which kicked off yesterday in Las Vegas.
A 2012 McKinsey Global Institute report projected that the global labor market will face a deficit of nearly 85 million skilled workers within the next five years[1]. Organizations will be challenged to address this crisis if they rely solely on traditional HR approaches and recruiting, and they must shift their focus to identifying and developing talent from within their workforces to stay competitive.
"More than 25 years ago, Peter Senge, a lecturer at the MIT Sloan School of Business and founder of the Society for Organizational Learning, stated that the rate at which organizations and individuals learn may well become the only sustainable competitive advantage. This has never been truer than in today's hypercompetitive, virtual and increasingly mobile world," said Humair Ghauri, senior vice president of engineering at SumTotal. "Today, business success is based on our ability to rapidly acquire and apply new knowledge and cultivate an evergreen source of talent. Velocity is achieved through pervasive learning, and leadership in the market is earned and sustained through workforce adaptability. This is the Learning Age, and it demands a learning-centric approach to talent development and management that delivers tailored learning experiences designed to increase employee skills and readiness."
The latest enhancements to SumTotal's learning-centric Talent Expansion platform enable customers to drive learning to the core of their company culture and provide managers and employees the tools and information they need, when and where they need them, to develop and become tomorrow's leaders.
SumTotal Talent Expansion suite highlights include:
Contextual and Pervasive Information and Actions: SumTotal's platform facilitates the delivery of personalized, contextual talent processes within other business systems so employees can incorporate learning and talent information into their daily activities to maximize performance. New Microsoft Outlook integrations simplify scheduling and allow key learning actions, such as status updates, to be completed within Outlook, helping employees engage with learning wherever they are working. The current release of Talent Expansion also includes expanded integration with Salesforce.com. Now, in addition to linking learning activities with specific sales opportunities and proactively recommending training directly from within the application, employees can register for and launch courses directly from Salesforce.com, empowering them to apply new knowledge where it can have immediate impact. Additional enhancements, built upon the award-winning elixHR® platform, enable organizations to measure the effectiveness of learning programs by giving users visibility into expanded data, such as training statuses and compliance analytics, in third-party applications.
Enforcing compliance across HR processes: As the number of regulations increase and enforcement efforts continue, the need for corporate transparency in business practices grows. In this release, SumTotal added rules into its robust SumTotal Work solution's compliance rules engine regarding the Affordable Care Act (ACA), California's missed meal regulations and sick leave legislation for New York, New Jersey and Connecticut. The rules will further assist organizations in remaining compliant as they manage their workforce and scheduling while considering employee information, including full-time employee status, average hours worked per week, hours worked per month or length of service from hire date.
Real-Time Succession Planning and Modeling: The ability to proactively determine the impact of changes to an organization's talent structure, both planned and unplanned, is crucial to ensure an employee's departure or organizational restructure does not impede the business. In its latest release, SumTotal expands its succession planning capabilities with new features, such as Talent Book and enhancements to the talent assessment process, that enable what-if analyses and real-time workforce modeling to help leaders understand the implications of change. These solutions make it easier to identify and examine critical roles, highlight emerging leaders for those roles, and then outline the learning and development needed to grow, support and retain top employees.
Along with many differentiated innovations, the latest release of the SumTotal Talent Expansion suite incorporates a broad range of customer-driven enhancements, a simplified user experience and new tools designed to accelerate implementation and administration.
SumTotal Innovation
SumTotal continues to deliver rich functionality across its Talent Expansion suite while maintaining a strong focus on creating and delivering next-generation solutions that drive employee engagement and provide strategic talent insight. With SumTotal and Skillsoft having recently come together, the potential for innovation is even greater, affording customers significant advantages and economies of scale. With Skillsoft's leading content and content discovery and delivery technology embedded directly into SumTotal's Talent Expansion applications, customers will be able to access a comprehensive, content-rich HR solution, featuring a pervasive and engaging user experience, to help them effectively manage, develop and expand their workforce.
Current innovations underscore SumTotal's investments in and focus on:
Engaging Talent in a Pervasive Experience: SumTotal supports the demands of the Learning Age by delivering targeted and curated learning at the moment of need through new innovations, such as user-generated video content uploaded via mobile devices, big data and process orchestration. This pervasive experience is provided across multiple platforms and devices, including smart watches, smartphones, tablets, laptops and desktop computers. SumTotal weaves previously disparate and complicated steps into simple, contextual and orchestrated talent and learning processes giving users the ability to take training directly from their mobile devices.
Predictive Talent Management: SumTotal delivers forward-looking predictive insights about an organization's workers in the areas of capabilities, performance, retention and competencies. Its Talent Expansion applications provide a simple, intelligent and organized presentation of a team's work, competencies, timeline and goals. SumTotal solutions also provide a visual, interactive way to model and execute against organizational or individual Talent Plans, such as succession or role changes.
Peer Recognition and Rewards: SumTotal provides customers with new ways to recognize, reward and motivate employees in real time. Organizations can apply this new capability to automatically recognize and reward users for accomplishing specific tasks, such as completing learning activities or meeting other milestones. The solution also provides greater visibility into employees' accomplishments, development and career growth.
HR Technology Conference Demos
SumTotal will showcase its Talent Expansion advancements and its future as a Skillsoft company throughout the HR Technology Conference. Attendees can learn how the unified solution, a combination of best-in-class HR software and a robust set of learning content, drives employee performance and satisfaction by enabling organizations to embed learning into their talent management programs.
Join SumTotal to learn more about talent in the Learning Age:
Wednesday, Oct. 8, 10 a.m. – 5:30 p.m. at booth 1511
Thursday, Oct. 9, 9:45 – 4 p.m. at booth 1511
See hands-on demonstrations showcasing exciting innovations, such as recommended learning, process orchestration, smart watch technology, user-generated mobile video content, contextual learning, and new role- and event-based talent dashboards.
Thursday, Oct. 9, 11 a.m. and 2:30 p.m. at booth 1511
Thursday, Oct. 9, at 12:30-1:30 p.m. in Demo Room 1 on the show floor
Visit www.sumtotalsystems.com and check out the SumTotal Blog for more learning and talent management tips and perspectives.
About SumTotal Systems
SumTotal Systems, LLC, a Skillsoft company and a leading provider of integrated HR solutions, is increasing the performance of some of the world's most successful organizations, including AstraZeneca (NYSE: AZN [ADR]; London: AZN), Amway (KUL: AMWAY), and Seagate (NYSE: STX). SumTotal's people-focused Talent Expansion® applications, available on premise and in the Cloud, enable contextual, just-in-time development designed to help organizations discover, develop and unleash the hidden potential within their workforce and business ecosystem. Today, more than 3,500 organizations, including several of Fortune's "Best Places to Work," rely on SumTotal's award winning solutions to empower their employees. Visit the SumTotal Blog or follow @SumTotalSystems at twitter.com/sumtotalsystems and on Facebook at facebook.com/SumTotal.Systems for more learning and talent management tips and perspectives.
http://www.sumtotalsystems.com