"Turn your knowledge into value": e-doceo's new promise, leader in technological solutions for digital training.
After 10 years of growth and development, the specialist in digital training solutions is focusing on boosting company knowledge with a restructured software/services offer and new visual identity!
The most important company value: human capital
e-doceo is an French international company that clearly and successfully reveals its technical expertise and innovation. Today, it confirms a strategy that focuses on developing customer knowledge.
According to the publisher, every company has the knowledge and skills necessary to grow and develop. Yet these qualities are often left untapped or simply ignored. Therefore, companies must realize that this "human capital" is their best asset for growth and development. e-doceo offers the right tools to identify, formalize, and share this educational capital.
A clear strategy for users
In order to rise to the challenge, e-doceo provides an offer structured around two poles: a global IT solution to create, manage, and publish training (e-learning, face-to-face, etc.) and personalized consulting services to optimize the use of training technology. "Our positioning is global and covers the entire value chain met by digital learning, which is now essential for modern company training services," confirms Jérôme Bruet, Executive Director of e-doceo.
A new image for a new life
To pass on this vision, e-doceo recently sent out a new image brought on by the evolution of its logo and website. "If in the past the majority of our actions were based in e-learning, we are now also offering online and face-to-face training solutions," says Jérôme Bruet. "Therefore, the 'e-' synonym of 'electronic/distance' has disappeared from our logo." In the same vein, the user-friendly design of the publisher's website has been redesigned for easier access and a clearer understanding of information.
One promise in one sentence: "Turning your knowledge into value". A powerful message chosen by e-doceo and their guarantee to enhance the value of customer expertise and turn it into a major advantage for development by relying on a global digital training solution.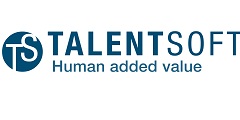 Talentsoft is the European leader for cloud-based Talent Management software. Its LMS (Learning Management System) allows training departments to deliver training contents, follow learner progress and engagement in their courses, and implement dedicated tutoring and coaching actions. Our LMS integrates powerful functionalities such as:

- Training courses and project management
- Learner follow-up thanks to a powerful analytics tool
- Employee skills management
- Graphic customization
- Community management: virtual classroom, social learning, likes and comments, badges, etc.

More details of this software