Press and News
MySalon-Edu, first MOOC for hairdressers and beauticians, developed with L'Oreal
CrossKnowledge, a Leader in Digital Learning, developed MySalon-Edu.com, an online platform that focuses on salon education, with L'Oréal group. CrossKnowledge and L'Oréal's longstanding relationship of trust came in handy when creating this platform. The e-cademy MOOC was created for the world's 7 million professional hairdressers and beauticians. This initiative is exclusive to the beauty industry and aims to establish salon education as a true lever for transformation.
Digital technology is a key aspect of the success of this project. With digital technology, users can reach the entire community from any location and at any time. The platform enables these professionals to network, exchange ideas, and share their content (videos, tutorials, …) to gain visibility at a local and global level. By sharing this goldmine of knowledge with cosmetic and beauty experts, L'Oréal Professional Products is remaining true to its core value of passing expertise on to others.
Reinventing the business
The MySalon-Edu inspires hairdressers worldwide to innovate their approach to services, customer care, and discovering trends so that their businesses remain attractive and remain able to satisfy consumer
demand. The rise of digital technology has changed the world of salons, and to keep up, hairdressers must connect with other industry professionals, understand his or her professional environment, and be flexible enough to adapt all the time
Education: an essential lever for enhancing professionalism within an industry
What could be better than a digital tool to support hairdressers and beauticians and that enables them to adapt in this changing environment? The main challenge is to support professionals as they organize and develop their businesses.
A platform open to all
L'Oréal chose to create this platform for educational purposes only. MySalon-Edu.com is meant to act as a non-promotional community portal with a genuine social purpose. More than 3,000 multimedia resources are currently available and hosted on the CrossKnowledge platform, which provides an additional content on personal development, business fundamentals, client orientation, video tutorials, quizzes, modules, and interviews with industry professionals from all over the world. All content is available on computers, smartphones, and tablets.
"Salon education is now a click away. By providing a dedicated platform, centered on the needs of professionals, we're providing hairdressers methodological and artistic content that allow them to improve their to help them improve not only their technical expertise but also their management skills. The project yielded very encouraging early results in Canada. The initiative has totally changed the way we relate to the professional beauty industry, and we now want to bring this to the entire world," explains Eric Royer, Global Learning Director, L'Oréal Professional Products Division.
"We are proud to support L'Oréal for many years not only to employees of the group but also within its ecosystem. MySalon-Edu.com perfectly illustrates how L'Oréal gives life to its principles, "adds Michel Thirapounnho, Director of Industry Luxury & Cosmetics, CrossKnowledge.
About CrossKnowledge
CrossKnowledge is a global leader in distance learning solutions. Its flexible solutions, available in "SaaS" mode and 100% "cloud" based on exclusive learning formats, content that reference worldwide and a range of support services. CrossKnowledge solutions facilitate the rapid increase in the competence of all employees and the distribution of the company's strategy while providing a unique learning experience for the individual and a high return on investment for the organization. formats and educational content CrossKnowledge have been designed in collaboration with a "faculty" international, composed of the best experts and professors from leading business schools. CrossKnowledge's expertise in instructional design and deployment is formalized within the CrossKnowledge Academy and made available to customers as part of certification programs. CrossKnowledge operates globally and caters to companies of all sizes and all sectors, totaling over 7 million learners. CrossKnowledge is part of the Wiley group.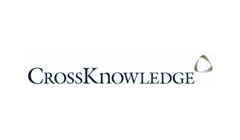 The CrossKnowledge suite is a cloud-based technological platform made up of exclusive applications dedicated to the deployment of your training strategies. It allows you to implement blended learning and social learning programmes, to develop distance learning content and skills assessment programmes… or to organise combinations of these different types of project.

It allows you to implement the following:
• blended learning projects using our Training Solutions technology;
• social learning projects using our Community Solutions technology;
• mentored learning projects using our Mentoring Solutions technology;
• professional e-learning content development using our Mohive authoring tool. … and to offer a new learning experience.

CrossKnowledge believes that such a platform must not be restricted to classroom and e-learning strategies, but must combine formal and informal learning (on-line dialogues, blogs, etc.), long-term learning paths and immediate training, and PC-based and mobile learning experiences, all built into a single Learning Portal.
More details of this software
Publisher press
> 16/05/2017 - CrossKnowledge, a Wiley brand, and leader in digital learning solutions...

> 02/05/2017 - CrossKnowledge: Top 20 Training Outsourcing Companies

> 07/02/2017 - Interview (e-learning): Steve Fiehl, co-founder & CIO of CrossKnowledge

> 06/01/2017 - MOOC: From one-on-one training to collective knowledge-building

> 20/12/2016 - Boost your L&D visibility & credibility – The Annual Learning Report

> 05/12/2016 - Get Big Things done through Connectional Intelligence: a new videocast program by Erica Dhawan

> 08/11/2016 - OpenBooks: A new collection to drive workplace performance and productivity

> 12/09/2016 - CrossKnowledge launches a new training technology that transforms individuals as well as the company.

> 31/08/2016 - In our increasingly digital world, empathy and connection are essential tools for establishing more human interactions.

> 19/07/2016 - Management 3.0 : a new videocast program by Jurgen Appelo

> 15/06/2016 - CrossKnowledge is proud to support the Towards Maturity Benchmark Study.

> 30/05/2016 - Crossknowledge is proud to support the Towards Maturity Benchmark Study

> 14/04/2016 - CrossKnowledge rewards its partners with "Partner of the Year Award"

> 16/03/2016 - CrossKnowledge offers fully integrated solution as answer to mobile learning challenges

> 04/03/2016 - Collaboration Superpowers: a new videocast by expert in remote teams, Lisette Sutherland

> 17/02/2016 - MySalon-Edu, first MOOC for hairdressers and beauticians, developed with L'Oreal

> 02/02/2016 - 5 years of collaboration with Clarins: the CrossKnowledge solutions deliver real impact on business

> 18/01/2016 - Designing an agile organization: a new videocast program by Christopher Worley

> 22/12/2015 - 2015 Brandon Hall Excellence Awards

> 13/11/2015 - Big data and digital organizational culture

> 30/10/2015 - CrossKnowledge partners with Junior Achievement USA to support future entrepreneurs

> 23/09/2015 - Brandon Hall honors CrossKnowledge with 2015 Excellence Awards

> 10/09/2015 - CrossKnowledge announces its participation at World of Learning 2015 in Birmingham

> 20/08/2015 - CrossKnowledge named to 2015 Top 20 Learning Portal Companies List by Trainingindustry.com

> 24/07/2015 - CrossKnowledge launches "Learn" app

> 17/07/2015 - 6 new Sessions on Key Account Management

> 03/07/2015 - Testimonials: Ricoh Americas and Credit Libanais share their CrossKnowledge experience

> 27/05/2015 - CrossKnowledge is part of the "TOP 20 Content Development Companies List 2015"

> 19/05/2015 - 11 new videocasts on Lean Management with Gad Allon, Professor at the Kellogg School of Management

> 13/05/2015 - Back to Talent 2015, the CrossKnowledge Academy Conference

> 15/04/2015 - New Feature in the CrossKnowledge Learning Suite : LinkedIn

> 27/03/2015 - 13 new videocasts on the digital transformation of businesses with David R. Bell, Professor at The Wharton School.

> 06/02/2015 - Gavisus partners with CrossKnowledge to provide Nordic leadership development programmes

> 22/01/2015 - CrossKnowledge: 2015 Top 20 Authoring Tools Companies by Training Industry

> 15/01/2015 - CrossKnowledge Honored as Top E-Learning Company by 2014 Brandon Hall Excellence in Technology Awards

> 27/11/2014 - 11 new videocasts about digital transformation by Martha Gabriel

> 18/11/2014 - 12 November 2014 New Modules Improve the E-Learning Experience through Intuitiveness, Scalability and Mobility

> 28/10/2014 - Learning is Shifting, Changing, Expanding, Compressing and Personalizing!

> 16/10/2014 - CrossKnowledge Honored by Chief Learning Officer Magazine for Excellence in Blended Technology

> 29/09/2014 - Executives forecast increasing connection between business outcomes and workforce development

> 28/08/2014 - CrossKnowledge is a finalist of the Learning in Practice awards!

> 16/04/2014 - Wiley Signs Definitive Agreement to Acquire CrossKnowledge

> 24/03/2014 - Medicinfo and CrossKnowledge join forces to launch a unique e-health & wellbeing solution

> 19/12/2013 - ACCA announces new tripartite partnership with CrossKnowledge and BPP to deliver Continuing Professional Development

> 15/11/2013 - New videocast series about "Key Account Management" with Diana Woodburn

> 11/10/2013 - CrossKnowledge Named to "2013 Top 20 Learning Portal Companies List" by Trainingindustry.com

> 09/09/2013 - CrossKnowledge takes over Digital SK and plans to speed up investments in Brazil.

> 08/07/2013 - CrossKnowledge Learning Suite, release 13.1

> 03/06/2013 - Interview (e-learning) - Steve Fiehl, Chief Innovation Officer from CrossKnnowledge - answers our questions