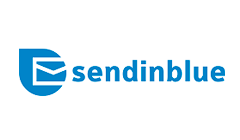 SendinBlue
SendinBlue
WBR = Without bsoco Rank : bsoco does not contain enough information on this software to evaluate it.
bsoco benchmark sheet
- advantages and disadvantages
- price positioning
- how easy it is to familiarise oneself with this software
- level of R&D
quality of support
- number of training days
- Other market indicators
Not available sheet
bsoco light sheet
- ranking
- community dynamics
- bsoco index evolution
Not available sheet
Description
SendinBlue empowers businesses to build and grow relationships through email campaigns, transactional emails and SMS messages.
The platform combines a robust suite of services within a single, user-friendly solution.
1. Create beautiful responsive design newsletters thanks to a powerful intuitive editor
2. Segment your database
3. Schedule your sending. We take care of delivering it to the inbox of your clients.

SendinBlue Marketing Automation helps you communicate with the right people, at the right time and with the right message.

SendinBlue is powered by our world-class customer service team and offers pricing plans guaranteed to make you smile. SendinBlue launched in Paris in 2012 and now serves over 100,000 users in over 80 countries around the world.