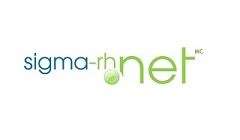 SIGMA-RH.net
SIGMA-RH France
bsoco benchmark sheet
- advantages and disadvantages
- price positioning
- how easy it is to familiarise oneself with this software
- level of R&D
quality of support
- number of training days
- Other market indicators
Display benchmark sheet
Description
SIGMA-HR is a leader in Human Resources Information Systems (HRIS). Our software, SIGMA-HR.net, is a totally different solution that allows human resources departments to be an integral part in the decision-making process in an organization. A full HR suite, completely integrated for all HR needs.

A mix of flexibility, automation, reliability, and innovations.

SIGMA-HR.net covers all areas relating to human resources management, except payroll:

- Administrative management;
- Talent management (training, jobs and skills management, recruitment, interviews and evaluations);
- Time off requests, absences and time management (including employee scheduling and time clocks);
- Workplace accidents, occupational risks, medical visits and hard-working conditions;
- Workflows and self-service customized for each category of users.

As a world first, SIGMA-HR.net is the only application to include geolocation tools specifically applied to HR. Our integrated HR software offers new functionalities that will become the standard for any next generation HRIS. Some of the new features are:

- Increase employees' satisfaction;
- Simplify recruitment and training;
- Reduce extra costs relating to remote learning;
- Allow the localization of workplace accidents, occupational risks and accidental exposures to chemical products.
These are only a few examples of concrete applications of geolocation in HR management!

Our HRMS is currently installed and used worldwide. The cloud-based HR software market (SaaS) is growing fast and our technological innovations are placing us way ahead of our competitors.