Press and News
Skillsoft and SumTotal Celebrate First Year as Combined Organization
Product Innovation, Industry Recognition and Strategic Partnerships Position Company to Meet Growing Demand for Next-Generation HR.
Commemorating the anniversary of its acquisition of SumTotal Systems, Skillsoft, a global leader in learning and talent management, announced key milestones the companies have achieved, both separately and together, in transforming learning and talent management over the past year. In the time since the two organizations combined forces and unified their vision, Skillsoft and SumTotal have executed against a tight timeline and aggressive goals to grow their combined business and deliver content-infused, seamlessly integrated learning and talent processes that improve organizational performance by improving employee performance.
"In the past year, the recognition Skillsoft, our partners and our customers have earned underscores Skillsoft's vision and commitment to delivering end-to-end learning and talent solutions that drive positive business outcomes," Skillsoft CEO Chuck Moran said. "In the 12 months since the acquisition we have laid groundwork focused on our united vision to help organizations address the challenges business leaders face today – and the ones they will face tomorrow. Building on that strong foundation will allow us to continuously raise the bar by delivering modern learning and talent management solutions that appeal to a wide range of organizations and their employees. Our commitment to help people get better at their jobs and create great places to work through product innovation and an unmatched customer experience positions Skillsoft to grow our business, increase our market share and extend our industry leadership in the coming years."
Innovation and Expansion
In 2015, Skillsoft and SumTotal announced their first joint Talent Expansion suite solution, which embeds Skillsoft's more than 60,000 IT, leadership and business content assets spanning multiple modalities directly within SumTotal's talent and learning processes. This solution provides employees and HR leaders with access to an intelligent, highly-personalized solution that knows what learning actions to deliver based on the skills they require to drive employee enablement and team performance, leadership development and succession planning.

In May, Skillsoft acquired Vodeclic, a leading provider of a new generation of video courses, to help employees increase their competency in commonly used applications in today's digital workforce such as Excel, Prezi, Photoshop and Salesforce with more than 25,000 video tutorials in six different languages via an easy-to-navigate cloud-based platform.
Skillsoft showcased stage two of the multi-phase joint development effort with IBM Research to harness the power of big data in enterprise learning and development. Through the partnership, Skillsoft can deliver hyper-personalized learning recommendations that are constructed and dynamically sequenced, based on historical content consumption and the semantics of a large number of courses and learning goals, to optimize employee engagement, knowledge retention, and performance.
In response to the growing demand for mobile learning, the latest Skillsoft Learning App was released for Android and iOS devices. Leveraging Skillsoft's patented multi-modal search and curation capabilities, the app delivers an unparalleled content discovery experience, proactively recommending videos, books, audiobooks and summaries based on an individual user's interests.
Industry Recognition and Momentum
This year, several industry analyst and media organizations recognized business leaders, customers and solutions across both organizations for demonstrating leadership and innovation in learning and talent management:
Skillsoft CEO Chuck Moran was honored as EY Entrepreneur Of The Year® 2015 New England for demonstrating innovation and leadership in the technology sector. Moran, who has built Skillsoft into a market-leading business organically and through strategic acquisitions over the past 17 years, was honored for transforming the way organizations use technology to improve business performance and for contributing to the vibrancy of the regional community.

SumTotal was recognized by IDC, a premier global provider of market intelligence, in a series of IDC MarketScape reports on the integrated talent management market.Highlighting its end-to-end solutions, reporting and analytics, and interactive and collaborative user experience, IDC named SumTotal a Leader in the report on Learning Management[1] and Social Technology[2] and a Major Player in the IDC MarketScape reports for Performance[3], Compensation[4] and Recruiting[5] and overall Talent Management[6].

Nucleus Research named SumTotal as a Leader in its Technology Value Matrix 2015 – Talent Management. SumTotal was recognized for the innovations in its latest Talent Expansion release and one-click access to more than 60,000 Skillsoft-sourced learning assets from various talent management workflows.

Skillsoft and SumTotal customers represented more than 80 percent of Human Capital Media's 2015 Learning Elite, which awards organizations that perform above the benchmark standard in learning and development. Winning customers continue to pave the way as leaders in learning strategy, implementation, executive leadership support and use of technology.

Customers across both companies were honored in Brandon Hall Group's Excellence Awards for learning and talent management. University of Texas Southwestern Medical Center earned the top award for Best Advance in Creating a Talent Strategy, the United States Department of Agriculture and customer Fallon Health won bronze for Best Advance in Learning Technology Implementation and Best Learning Program Supporting a Change Transformation Business Strategy, respectively.

The combined company was ranked as one of the Top 10 HCM Application Vendors in the Cloud by market research firm Apps Run the World, which highlighted Skillsoft's breadth of solutions and strong industry position.
Skillsoft was Recognized by Training Industry as a Top 20 Outsourcing Training Companies, Top 20 Workforce Development Company, Top 20 Content Development List Company, and included in the Top 20 Sales Training Companies Watch List.


SumTotal was named a Visionary in Gartner's annual Talent Management Magic Quadrant report, honored for its strong learning and performance management solutions, strong succession management functionality, and pre-mapped Skillsoft content embedded directly into its talent management processes. As a Visionary, SumTotal was recognized for its forward-thinking approach to delivering innovative products, anticipating emerging market trends, and moving the market ahead into areas where it hasn't yet been.

Strategic Partnerships
In the last year, Skillsoft and SumTotal partnered with other forward-thinking organizations to deliver programs that support and expand learning, education and talent development. Strategic partners and customers the organization worked with in the last year includes:
SumTotal integrated iCIMS recruiting and onboarding capabilities into Talent Expansion® applications, extending SumTotal's talent acquisition capabilities across the full talent lifecycle. In conjunction with these capabilities, SumTotal can immediately and dynamically embed and prescribe specific onboarding content from Skillsoft based upon a candidate's profile, accelerating time to proficiency so that employees are productive from their first day.
Skillsoft and Gale, a part of Cengage Learning, now offer Skillsoft online courses at public libraries to support local economic development by helping skill up today's workforce and enabling individuals to take ownership of their own professional development.
Skillsoft launches college credit business certificate in partnership with Patten University, an award-winning online higher education institution. The Professional Essentials certificate, a combination of Skillsoft's award-winning business content and Patten's integrative assessments, focuses on helping working adults develop and expand critical skills necessary for advancing in their careers.
Moving into 2016 and beyond, Skillsoft will continue invest in innovation that helps customers deliver a talent management experience that enables employees to advance their careers and aligns their development to organizational goals. Skillsoft will showcase its future vision and innovations at the upcoming HR Technology Conference and Expo in Las Vegas from Oct. 18-21. Attendees can learn more about Skillsoft's solution, including the upcoming Winter 2016 release of Talent Expansion®, experience demonstrations at the innovation theater and speak with top Skillsoft executives and product specialists at booth 1500 in the Expo hall throughout the conference.
Tweet this: A year in review – @Skillsoft and @SumTotalSystems celebrate 1 year anniversary as combined company. http://ow.ly/TaFm9
About Skillsoft
Skillsoft is a pioneer in the fields of learning and talent management with a long history of innovation. Skillsoft provides cloud-based learning solutions for its customers worldwide, ranging from global enterprises, government, and education to mid-sized and small businesses. Skillsoft's customer support teams draw on a wealth of in-house experience, flexible delivery platforms and a comprehensive learning e-library to develop off-the-shelf and custom learning programs tailored to cost-effectively meet customer needs. Skillsoft's courses, books and videos have been developed by industry leading learning experts to ensure that they maximize business skills, performance, and talent development.
Skillsoft currently serves over 6,000 customers and more than 19,000,000 learners around the world. Skillsoft is on the web at www.Skillsoft.com.
Skillsoft, the Skillsoft logo, Skillport, SkillChoice, Books24x7, and learning-centric Talent Expansion are a partial listing of the trademarks or registered trademarks of Skillsoft Ireland Limited in the United States and certain other countries. All other trademarks are the property of their respective owners.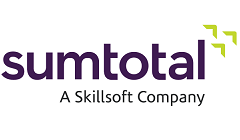 The SumTotal Learn solution is the market leader, with over 45 million people using the solution to increase their effectiveness and productivity in companies of all sizes and all geographies. SumTotal Learn is the only LMS that provides personalised, contextual learning with the flexibility to enable world-class formal training and certification programs as well as day-to-day informal learning and knowledge sharing. With powerful learning management capabilities for businesses of all sizes, complete learning content management, content creation, measurement tools, offline learning tools and next generation mobile and social learning products, the SumTotal Learn solution can be used anytime, anywhere on nearly any device.

SumTotal's Enterprise Learning Management enables organisations to:
- Deploy faster with open activity architecture
- Reduce non-compliance with continuing-education management
- Improve user adoption with an enhanced, intuitive user experience
- Increase visibility with personalized dashboards
- Reach employees on the go with mobile and off-line learning capabilities

More details of this software