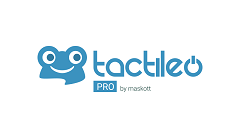 TACTILEO LMS
MASKOTT
WBR = Without bsoco Rank : bsoco does not contain enough information on this software to evaluate it.
bsoco benchmark sheet
- advantages and disadvantages
- price positioning
- how easy it is to familiarise oneself with this software
- level of R&D
quality of support
- number of training days
- Other market indicators
Not available sheet
bsoco light sheet
- ranking
- community dynamics
- bsoco index evolution
Not available sheet
Description
Tactileo Pro, your intuitive learning platform for academic and professional training. Tactileo allows you to create interactive multimedia content, instantly share it on screen as well as on the learner's tablets, smartphones or pcs. Tactileo is a unique tool to create and share multimedia content, to make your teaching sessions, your training and your local or remote meetings more appealing and dynamic, in an online or offline mode. Present, evaluate, pol, animate... Simulate your audience and improve your presentations!

The Tactileo Pro experience will save time, motivate and facilitate the interaction allowing to learn with cutting edge tools.

More than 2,5 millions users, why not you?