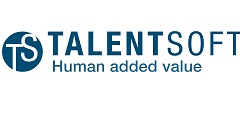 Talentsoft LCMS
Talentsoft
bsoco benchmark sheet
- advantages and disadvantages
- price positioning
- how easy it is to familiarise oneself with this software
- level of R&D
quality of support
- number of training days
- Other market indicators
Display benchmark sheet
Description
Talentsoft is the European leader for cloud-based Talent Management software. Its LCMS (Learning Content Management System) allows companies to create blended learning courses, mixing instructor-led training kits with e-learning resources (scripted e-learning, rapid learning, micro learning, video learning), that can be used on any device (PC, tablets and smartphones).

Training teams can also store, organize and share all of their training documents, whether they were created or not in the LCMS (PowerPoint, Word document and other e-learning contents from other solutions). Finally, our LCMS gives the possibility to support content production thanks to collaborative functionalities, by assigning rights and tasks to every project member and controlling budgets and calendars.

Our LCMS exists as a local application (for off-line content creation) but also online. Indeed, we offer an advanced web edition tool enabling companies to create, enrich and manage their training resources directly online and thus, recycle contents easily and industrialize production in order to boost their performance.