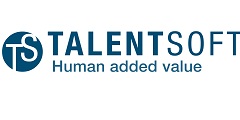 Talentsoft LMS
Talentsoft
bsoco benchmark sheet
- advantages and disadvantages
- price positioning
- how easy it is to familiarise oneself with this software
- level of R&D
quality of support
- number of training days
- Other market indicators
Display benchmark sheet
Description
Talentsoft is the European leader for cloud-based Talent Management software. Its LMS (Learning Management System) allows training departments to deliver training contents, follow learner progress and engagement in their courses, and implement dedicated tutoring and coaching actions. Our LMS integrates powerful functionalities such as:

- Training courses and project management
- Learner follow-up thanks to a powerful analytics tool
- Employee skills management
- Graphic customization
- Community management: virtual classroom, social learning, likes and comments, badges, etc.