hr > Competency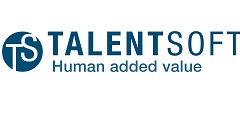 Talentsoft Performance & Competencies
Talentsoft
bsoco benchmark sheet
- advantages and disadvantages
- price positioning
- how easy it is to familiarise oneself with this software
- level of R&D
quality of support
- number of training days
- Other market indicators
Display benchmark sheet
Description
Talentsoft is the European leader for cloud-based Talent Management software. Its complete Talent Management application allows to turn employees and managers into true HR partners by transforming yearly appraisals into a continuous and collaborative process.

With Talentsoft Performance & Competencies:

- Be more objective with social feedback and 360° appraisals;
- Accompany your employees with the help of decision-making tools: contextualized information, built-in intelligence, direct access;
- Take advantage of Talentsoft's native integration: enhanced appraisals (automatic recovery of fixed objectives, dynamic display of competencies to be evaluated and a log of previous learning sessions) and ethical processes (centralising learning requests, consolidating mobility requests, and automatic completion of Talent Review).