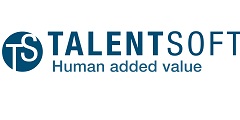 Talentsoft Recruiting
Talentsoft
bsoco benchmark sheet
- advantages and disadvantages
- price positioning
- how easy it is to familiarise oneself with this software
- level of R&D
quality of support
- number of training days
- Other market indicators
Display benchmark sheet
Description
Talentsoft is the European leader for cloud-based Talent Management software. Its complete Talent Management application provides concrete results in recruiting, performance, career development, learning, as well as compensation management. With Talentsoft recruiting, use all channels to acquire new talent and discover 360° recruiting.

Talentsoft recruiting solution fi¬ts all your recruiting needs. Whether you are struggling to attract top talents, managing the recruiting workload or opening career opportunities internally, Talentsoft has the answer for you.

- Detect key talents with matching and scoring of applicants;
- Strengthen employer branding;
- Involve managers in recruiting process decision making;
- Manage internal mobility and recruiting on a single platform.