Talentsoft continues its strong international expansion with the acquisition in June of 20 new clients.
This success consolidates its position as the natural partner of large groups wishing to support the careers of their employees and confirms the growing expansion of its international strategy. Many multinationals have chosen Talentsoft to manage one or more of their HR processes (evaluation, recruitment, training, mobility, compensation…).
Have joined Talentsoft's community:
Sodexo: worldwide leader in food services and facilities management
Spie: european leader in electrical engineering and construction
Eurenco: european company specialized in energetic materials
Mane: worldwide leader in fragrance and flavors
Steen & Strom: leading shopping center company (Sweden)
Klinikum Mutterhaus: hospital in Trier (Germany)
Stadt Herrenberg: public sector (Germany)
Carante Groep: medical sector (Netherlands)
Eiffage: construction company
Pierre Fabre: pharmaceutical and cosmetic company
Gutenberg: global full-service, strategic communication company
MACSF: insurance company
With these achievements, Talentsoft continues to grow and consolidates its European leadership. In this perspective, the company integrated Gartner's Magic Quadrant for Talent Management Suites as a "Visionary" for the 2nd year in a row.
Jean-Stéphane Arcis, Talentsoft's CEO says: "We are very proud to have been positioned as a "Visionary" for the 2nd year in a row in Gartner's Magic Quadrant for Talent Management Suites. We believe this distinction confirms our ability to innovate and to deliver agile Talent Management best practices for global organizations. We feel this recognition underlines our strong position in the European market as a pure player alternative with a more adaptable and flexible solution".
www.talentsoft.com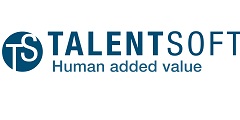 Talentsoft is the European leader for cloud-based Talent Management software. Its complete Talent Management application provides concrete results in recruiting, performance, career development, learning, as well as compensation management. With Talentsoft recruiting, use all channels to acquire new talent and discover 360° recruiting.

Talentsoft recruiting solution fi¬ts all your recruiting needs. Whether you are struggling to attract top talents, managing the recruiting workload or opening career opportunities internally, Talentsoft has the answer for you.

- Detect key talents with matching and scoring of applicants;
- Strengthen employer branding;
- Involve managers in recruiting process decision making;
- Manage internal mobility and recruiting on a single platform.

More details of this software