Press and News
Welcome Real-time receives MPE 2014 Award
Welcome Real-time, the global leader in innovative loyalty solutions, today announced that it has been awarded by MPE Award during Merchant Payment Ecosystem conference standing in Berlin, in the Data Information category. Welcome Real-time won this Award for its innovating Analytics Portal for payment schemes.
The Welcome Analytics Portal is a Business Intelligence (BI) tool designed for retail banks running loyalty schemes such as nationwide program or local coalition. This tool enables business users to easily slice, dice and drill down on their data. It benefits to both the retail bank and their merchants participating in the loyalty scheme. It allows businesses to transform data into actions to improve profiling performance and revenue generation.
The Portal has already been adopted for one year by Alpha Bank in Greece, which operates 'Alpha Bank Bonus', a successful points-based loyalty coalition. Leonidas Kassoumis, Executive General Manager Consumer Financing of Alpha Bank, said: "The Welcome Analytics Portal helps us to identify opportunities to target promotions both for the bank and our retail partners, encouraging our customers to use their Alpha Bank payment cards more frequently. This helps us achieve a much better level of customer engagement that delivers more transactions for the bank, incremental revenue for our retail partners but more importantly, make customers happy."
MPE awards recognize the outstanding role of services providers within the payment and acquiring ecosystem. "Welcome Real-time allow, by tracking data related to their business or market directly, both retail banks and participating merchants can build a better insight into their customer's behavior and attitudes" says Leon Dhaene, Chairman of the Awards. "The case of Alpha Bank in Greece demonstrates clearly the tangible success of the solution, in particular related to redemptions." Leon adds.
Philippe David, CEO Welcome Real-time, said: "When everyone speaks about Big Data, Welcome help their customers to leverage on worth payment and loyalty data. After the successful launch of the merchant portal, we are delighted that this analytics portal gets this prestigious MPE award."
About Welcome Real-time
Welcome Real-time (Welcome) is the global leader in innovative loyalty solutions to Fortune 500 banks, retailers and other organisations worldwide. Through its proven solutions, Welcome helps organisations (banks, merchants) run real-time loyalty and marketing programmes that drive a change in the behaviour of their customers, ultimately driving long-term growth and profitability. Established in 1996, Welcome is implemented across 5 continents and in over 20 countries worldwide, proving its ability to meet any business need.
Further information about Welcome Real-time can be found at www.welcome-rt.com
About Alpha Bank
Alpha Bank, founded in 1879, is one of the largest banks of the private sector in Greece, with a wide Network of over 1,200 service points in Greece and one of the highest capital adequacy ratios in Europe. In the area of Cards business, Alpha Bank is the largest Acquirer in the country with more than 42% market share and one of the leading Banks in cards Issuing with more than 30% market share.
www.alpha.gr
About MPE Award
The Merchant Payment Ecosystem Awards (MPE Awards) are the successor to the prestigious ECAF Awards. Its history began in 2010 as the first award to recognize outstanding role of card acquiring as an essential part of the card business. Card acquiring, mobile payments and online payments acceptance at POS are part of the payment business which is often underestimated and rarely visible. However, it is an essential part of the value chain, especially those who excel in providing the best service and customer experience.
www.merchantpaymentsecosystem.com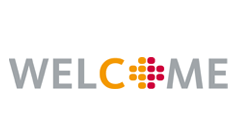 Established in 1996, Welcome Real-time serves Banks, Payment Processors and Marketing Providers through its range of loyalty and customer relationship management solutions and services. Headquartered in Aix-en-Provence (France), Welcome counts other offices in Paris, Singapore and São Paulo. Welcome Real-time has implemented its solutions in over 20 countries, across 5 continents, proving its ability to meet diverse business needs.

The "Loyalty Impact At Store" solution is dedicated to merchants and is enabled by payment players. It leverages on the payment transaction time, transforming these 4 seconds into a moment of interaction between the merchant and the consumer, inviting the customer to come more frequently, to buy more, or to come soon. This solution also builds-up customer knowledge at merchant's point of sale and allows a smooth customers engagement. The solution helps merchants to drive traffic and to increase the ticket size. On top of the value add to the merchant, the solution creates a real stickiness of the retailers to the bank, by adding value to their acquiring services
More details of this software